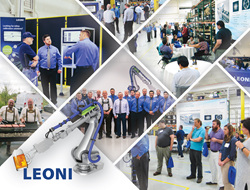 "Leoni bridges the gap between automation and world-class manufacturing," said Jean-Marc Vico, General Manager of Leoni EPS. "This is what we want to show you at our annual Oktoberfest event, with the best in class technology of today and the digital technologies of the future."
LAKE ORION, Mich. (PRWEB) August 27, 2018
Leoni Engineering Products & Services, Inc. (Leoni EPS) celebrates its German heritage and innovations in factory automation at the third annual Oktoberfest-style event on September 20, 2018, at its facility in Lake Orion, Michigan.
The event, held from 10 a.m. to 9 p.m., is open to representatives from industrial companies in North America, offering a varied selection of German food and beers. Along with demonstrations from each of the product groups at Leoni EPS – namely automation systems training, robotic cable management solutions and services, machine vision integration, and automation & drive cable solutions – guests will have the opportunity to see the latest innovations from Leoni using Deep Learning and other technologies in automation.
"Leoni bridges the gap between automation and world-class manufacturing," said Jean-Marc Vico, General Manager of Leoni EPS. "This is what we want to show you at our annual Oktoberfest event, with the best in class technology of today and the digital technologies of the future."
Numerous applications and technologies will be on display at the event, including Leoni's standard cable management solution – the LSH 3 – as well as custom cable solutions designed around the needs of specialized applications. An interactive tic-tac-toe demo incorporating both collaborative robotics and machine vision technology as well as the company's latest defect detection machine vision system utilizing Deep Learning will also be on display for guests.
In addition, Leoni will also highlight the latest updates to the B-Flex cable management system for collaborative and lightweight robotics, which has been updated for any type of small robot arm profile and diverse surfaces as well as packaging applications on bigger robots. To learn more or register for the event, visit leps-oktoberfest.com.
About the Leoni Engineering Products & Services, Inc.
Leoni Engineering Products & Services, Inc. (Leoni EPS), part of Leoni AG, is North America's leading solutions-focused automation service provider serving customers in the areas of Robotic Cable Management, Automation Systems Training, Turnkey Machine Vision systems, and Automation Support services. Leoni EPS is helping customers in the general manufacturing, automotive, consumer packaged goods, utilities, and other related industries to solve their most difficult assembly, automated inspection, and quality-control challenges. Learn more about Leoni EPS at http://www.leoni- americas.com or call (248) 484-5500.
About the Leoni Group
Leoni is a global provider of products, solutions and services for energy and data management in the automotive sector and other industries. The value chain encompasses wires, optical fibers, standardised cables, special cables and assembled systems as well as intelligent products and smart services. As an innovation partner and solutions provider, Leoni supports its customers with pronounced development and systems expertise. The group of companies, which is listed on the German MDAX, employs more than 87,000 people in 31 countries and generated consolidated sales of EUR 4.9 billion in 2017.