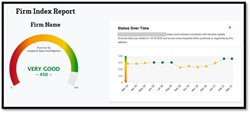 The data points we use in The Leopard Law Firm Index track firm strength and weaknesses in a real-time basis to give greater insight into the legal landscape. We knew there was a better way to do it, and so we did it.
NEW YORK (PRWEB) April 05, 2021
There are many rankings in the legal industry that have been around for years that have sought to evaluate law firms against their peers in a variety of categories, with financial performance being the top-ranked metric, but they don't really accurately measure the health, stability, and success of a law firm, which can change in a single quarter.
In addition, many of the currently published rankings are obsolete by the time they are released and the financial information on which many of the rankings are based is largely self-reported by the firms providing the information. Further, many of these rankings are based on client or peer review.
Having real-time data analytics and analysis that looks beyond financials has never been more important to law firms so they can measure their true performance and proactively plan their recruiting and growth strategies. In addition, in-house counsel want to know whether the outside firms with which they are working are healthy, stable and aligned with their corporate goals. The Leopard Law Firm Index can help law firms and in-house counsel get a more accurate sense of how law firms are really doing in the present day.
The Leopard Law Firm Index, developed by Leopard Solutions, Above the Law and Adam Smith Esq., answers these questions and more – providing a 30,000-foot view of law firm health and stability using a more robust list of criteria than current ranking systems provide on a real-time basis by an objective third-party. The Leopard Law Firm Index is more inclusive and dynamic than older models and provide law firms around the globe with the information they need to track themselves and their competitors more effectively and efficiently.
Every law firm that Leopard Solutions tracks, currently over 4,200 law firms, is listed on The Leopard Law Firm Index and is updated twice a week. The data focuses on the overall health of a law firm in real-time. Those numbers can change each week and if a large enough change has occurred, the index will reflect it.
To help identify the top global law firms in the world, Leopard Solutions has launched The Leopard Top 250, which examines the top 250 global law firms based on most recent data compiled by Leopard Solutions, allowing for an accurate reflection of the top global law firms at that time. The Leopard Top 250 is a dynamic list that incorporates all the updates to the data points tracking the Leopard Law Firm index, producing a real time list of the top global law firms. The fact that the Top 250 is updated so frequently helps explain why some law firms are included in the Leopard Top 250 but omitted from other leading industry rankings and vice-versa. To be considered for the Leopard Top 250 list, firms had to have more than 150 lawyers and have a score of "good" in the index.
The key metrics used to determine a law firm's success and health in The Leopard Law Firm Index include attorney growth and retention, financial stability over time, lateral recruiting success, Insider Score - surveys of attorneys at the firm about their workplace (done in partnership with Above the Law), attorney promotions as well as how ethnically diverse a firm is compared to others.
The Leopard Law Firm Index gives each firm a score from 0 to 500, with 500 being the highest possible score. There are four distinct statuses in the scoring system:

0 to 124 – Poor
125 to 249 – Fair
250 to 374 – Good
375 to 500 – Very Good
Laura Leopard, Founder and CEO of Leopard Solutions says, "We see firms each year that go under but are still ranked among the top firms in the country by other entities. We also believe that financials do not tell the entire story about firm health. The data points we use in The Leopard Law Firm Index track firm strength and weaknesses in a real-time basis to give greater insight into the legal landscape. We knew there was a better way to do it, and so we did it."
View the Leopard Law Firm Index and the Leopard Top 250.
***
About Leopard Solutions
Leopard Solutions delivers the highest quality, most accurate, and in-depth information on the legal market, leading law firms and attorneys with easily searchable products.
From business development solutions to competitive intelligence to lateral recruitment to our curated and customizable market research reports, Leopard Solutions offers a wide range of data solutions for law firms and legal departments. Leopard's data and technology are continuously updated to ensure market relevance and competitive edge.
We are a proud WBE organization that has grown into one of the most recognized and trusted legal market data providers in the United States. Leopard Solutions' high level of quality and depth is unmatched in the industry. For more information, visit our website and follow us on LinkedIn.