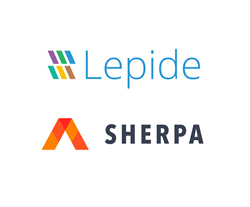 Together, we will be able to provide all of the capabilities that enterprises will need to get more visibility over exactly what's happening with their sensitive data.
AUSTIN, Texas and PITTSBURGH (PRWEB) August 03, 2020
Lepide and Sherpa Software are pleased to announce that they have entered into a global strategic partnership, combining Lepide's disruptive, scalable, enterprise Data Security Platform with Sherpa's award-winning data governance, classification, remediation and e-discovery platform.
With increasing overlap between data security and governance initiatives, Lepide recognized the need to incorporate powerful and accurate content scanning and e-discovery into their suite of security solutions. Sherpa brings the ability to quickly identify, inventory, and remediate data that may pose a GDPR or CCPA regulatory risk when it is contained in disparate data silos such as email, Windows workstations, file shares and more.
Lepide brings to the partnership the ability to identify who has access to this regulated data and whether user behavior may pose a risk to your compliance standing and to the security of your data in general. Through a combination of threshold and real-time alerting, Lepide can inform users when their permissions are escalating and enable you to reverse them so that you can maintain a Zero Trust policy with your most sensitive data. On top of that, AI-backed anomaly spotting technology establishes a baseline for "normal" user behavior and will sound the alarm when activities deviate from this norm.
Combining Sherpa and Lepide within your infrastructure will enable you to locate and classify your most sensitive data as per compliance regulations, ensure only the right people have access to it and that user activity is in line with compliance and security policies.
"The Sherpa partnership really excites us," said Aidan Simister, CEO of Lepide. "Lepide and Sherpa ultimately have the same goal; namely, being a valuable partner to enterprises in helping them to manage and secure their sensitive data. Together, we will be able to provide all of the capabilities that enterprises will need to get more visibility over exactly what's happening with their sensitive data."
"Both companies have the same mission, to protect sensitive data to reduce risk and meet compliance requirements," said Kevin Ogrodnik, CEO of Sherpa Software. "With Lepide, now we can also monitor for and remediate risky user behavior that may expose that data."
If you would like to see how Lepide and Sherpa combine to address data security and governance initiatives, register for our global, two-part webinar series on "A Security Debate Zero Trust or Trust but Verify". In these webinars, Lepide and Sherpa will show you how you can combine their solutions to meet all your security and compliance requirements.
Register today: https://www.lepide.com/webinar/a-security-debate-zero-trust-or-trust-but-verify.html
If you register before … we will send the recording of the webinar out to you upon completion.
Editor's note: For questions regarding this press release, contact:
Philip Robinson, Head of Marketing & PR, Lepide
phil.robinson@lepide.com
+44 (0)20 3929 8388
About Lepide
Lepide is a global provider of data security solutions. They help some of the world's largest enterprises improve data protection, meet compliance and detect/react to threats through the Lepide Data Security Platform. Lepide DSP enables organizations to detect and investigate threats to your most sensitive data in way no other vendor can. Bringing together threat detection, investigation and response capabilities enables you to investigate all events, changes, actions and anomalies with context. End to end visibility of Active Directory, Group Policy, File Servers, Office 365, NetApp, SharePoint, Box, Dropbox and more.
About Sherpa
Sherpa is a global leader of data governance and eDiscovery solutions. With over 3,500 customers, including 30% of the fortune 500, Sherpa provides sensitive data discovery and information governance that easily locates, classifies, remediates and protects hidden and sensitive data to help you remain compliant with privacy regulations and avoid breaches. Sherpa's Altitude platform provides complete transparency and visibility into your structured and unstructured data sprawled throughout your enterprise – on desktops and laptops, network file shares, SharePoint, OneDrive, PSTs, Microsoft365, Box, Google, SQL databases, and more.