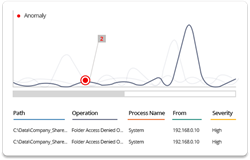 UEBA – combined with discovery and classification, permissions analysis and monitoring of environment states and changes – is a vital part of data-centric security.
AUSTIN, Texas (PRWEB) October 25, 2018
On the 23rd October 2018, Lepide released version 18.5 of their award-winning data-centric audit and protection solution; LepideAuditor.
LepideAuditor now allows users to easily identify single point anomalies through automated behavioral analysis so that you can spot potentially unusual user behavior. This has been developed to help organizations get better at spotting and reacting to insider threats in order to prevent data breaches.
According to recent research by Verizon, 25 per cent of all data breaches over the past year came as a result of insiders with legitimate access to sensitive data. These data breaches were attributed to insiders motivated by financial gain, whistleblowers and most commonly simple human error. Data breaches from insider threats can be disastrous and go undetected for long periods of time. Organizations need to ensure that they are proactive in detecting and reacting to such threats.
LepideAuditor 18.5 has been developed to help organizations address this problem.
Introduced as the main feature in the new User & Entity Behavior Analytics (UEBA) section within LepideAuditor, anomaly spotting enables you to determine exactly why an event has been flagged as unusual based on several intuitive factors; including time, criticality, operation and location.
The solution will collect information over a pre-defined "learning period" to determine what is deemed as normal behavior, so that anything that deviates outside of this norm is brought to the user's attention.
"We think most organizations are approaching cyber-security in the wrong way; spending a disproportionate of money on building really strong firewalls and generally defending from the outside-in," commented Aidan Simister, CEO at Lepide.
"By putting data at the center of your IT security you get that piece of mind that you're paying attention to your most vulnerable asset first. UEBA – combined with discovery and classification, permissions analysis and monitoring of environment states and changes – is a vital part of this data-centric approach. With UEBA an integrated feature of LepideAuditor, you can now be sure that you have an excellent data security at your disposal."
For more information – visit https://www.lepide.com/lepideauditor/user-and-entity-behavior-analytics.html