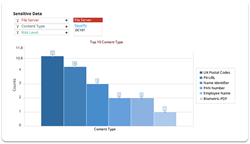 Knowing where your sensitive data resides is the first step to ensuring towards securing it!
AUSTIN, Texas (PRWEB) November 05, 2018
Lepide is a provider of Data-Centric Audit and Protection (DCAP) solutions that enable organizations to improve their approach to data security and meet compliance demands more easily. They do this through their award-winning DCAP solution – LepideAuditor.
The new edition of LepideAuditor introduces data discovery and classification technology that has been completely developed and supported in house. Unlike many other security vendors in the market, this functionality is not reliant on third-party vendor partnerships or integrations, allowing Lepide to provide its exceptional level of support to organizations using this new functionality.
The key benefits of this new functionality include:

Instantly Improve Data Security: Having the ability to locate where sensitive data (such as personally identifiable information or sensitive company documents) resides in your IT environment is the first step to improving your data security posture. LepideAuditor 18.6 allows users to determine the content of your files and categorize them based on the associated risk.
Make it Easier to Find and Classify Sensitive Data: Automatically scan your content for PII, credit card numbers, dates of birth and more based on a set of pre-defined conditions. Classify your data and automate the tagging and scoring to speed up the detection of your sensitive data.
A Non-Siloed Approach to Data Discovery and Classification: Introducing this functionality into LepideAuditor means that the solution is now a complete Data-Centric Audit and Protection solution that isn't reliant on third-party vendors or integrations. This allows users to approach their cyber-security from a non-siloed way instead of having to deploy multiple vendor's technology and rely on disparate support teams for a successful implementation.
LepideAuditor comes with a 15-day, fully functional, no obligation free trial for any organization looking to test the new functionality. For more information on LepideAuditor, visit http://www.lepide.com/lepideauditor