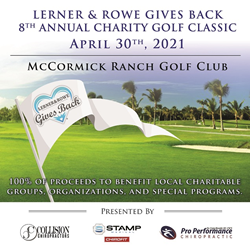 We appreciate that even though the future holds many unknowns we can rely on each other to join resources for the betterment of those in need. –Kevin Rowe, Lerner and Rowe Gives Back Founder
Scottsdale, AZ (PRWEB) February 15, 2021
Lerner and Rowe Gives Back will host their COVID-19 safe 8th Annual Charity Golf Classic on Friday, April 30, 2021, at McCormick Ranch Golf Club in Scottsdale, AZ. with a shotgun start at 10:00 a.m. 100% of proceeds raised will be given back to support local charities throughout Arizona. Last year the foundation raised $461,334.89 from their 7th Annual Charity Golf Classic and have their sights set on reaching an even higher goal.
"For the past seven years our annual charity golf classic has not failed to generate a significant amount of goodwill and financial support for humanitarian organizations throughout the state of Arizona. Now more than ever, we are grateful for the support and adaptability of our sponsors, community partners, golf course staff, event vendors, and volunteers. Without them we wouldn't be able to keep hosting this phenomenal fundraiser year after year. More notably, we appreciate that even though the future holds many unknowns we can rely on each other to join resources for the betterment of those in need," stated Kevin Rowe, founder of Lerner and Rowe Gives Back.
In addition to an afternoon of golf and giving, Lerner and Rowe Gives Back's 8th Annual Charity Golf Classic will feature a raffle drawing, tons of swag items for each golfer, libations, and lunch.
VIP Foursome and sponsorship opportunities are still available. COVID-19 safety protocols will be in place to help protect the health of all attendees. Learn how to get involved by visiting LernerAndRoweGivesBack.com/golf-event/ or contact Cindy Ernst by calling 602-952-3115 or via email at cernst@lernerandrowe.com.
More about Lerner and Rowe
Lerner and Rowe Injury Attorneys is a powerhouse law firm in representing personal injury clients. Attorneys Glen Lerner and Kevin Rowe have grown their law firm into one of the largest personal injury firms in the country, with over 50 attorneys and nearly 400 support employees located in Arizona, Tennessee, Nevada, California, Washington, Oregon, Indiana, and New Mexico. The law firm's continuous exalted levels of success can be attributed to the high levels of respect and dignity shown to victims and family members hurt in an accident.
For those injured outside one of the previously listed states, Lerner and Rowe has an established network of attorneys across the country, ready to help. The firm takes pride in nourishing these relationships as they know a personal injury attorney can make all the difference in obtaining fair compensation for the pain and suffering inflicted upon the victims of tortious conduct.
For more information about Lerner and Rowe Injury Attorneys, please call 602-977-1990. To connect with the law firm socially, follow Lerner and Rowe on Twitter and Instagram, or like their Facebook page. Also, be sure to visit LernerAndRoweGivesBack.com to learn more about the many other community services that the lawyers and legal support team of Lerner and Rowe actively support.
###