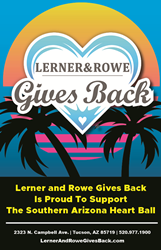 Lerner and Rowe Gives Back is proud to once again support the Southern Arizona Heart Ball.
TUCSON, Ariz. (PRWEB) January 14, 2022
Lerner and Rowe Gives Back is pleased to be a fifth-year sponsor of the Southern Arizona Heart Ball that directly supports the American Heart Association's fight against heart disease and stroke. For 2022, the Southern Arizona Heart Ball features a Miami Nights theme and will be held on Saturday, February 12 from 6:00 p.m. - 11:00 p.m. MST at The Westin La Paloma Resort & Spa. Funds raised will be used to support their health and education initiatives in Tucson that advocate for healthy policies and improved hospital quality of care, identify and remove barriers to healthcare access, fund medical research, and promote advanced cardiovascular healthy behaviors that help every heart.
To participate in this life-saving fundraiser and celebration of life, register and buy tickets online or make an online donation.
"Our team firmly believes that it is our responsibility to advocate for the lives of the young and old who cope with the effects of illness or diseases. That is why we are proud to once again support the Southern Arizona Heart Ball. The funds raised from this annual fundraiser do much to help improve the overall heart health and well being of our families, friends, and community members," stated Kevin Rowe.
For more specific information about the 2022 Southern Arizona Heart Ball, please contact Teresa Shami with the American Heart Association at (520) 917-7520 or Teresa.Shami@heart.org.
More about Lerner and Rowe Injury Attorneys
Lerner and Rowe Injury Attorneys is a powerhouse law firm representing personal injury clients. Attorneys Glen Lerner and Kevin Rowe have grown their law firm into one of the largest personal injury firms in the country, with over 50 attorneys and nearly 400 support employees located in Arizona, Nevada, California, Illinois, Indiana, New Mexico, and Tennessee. The law firm's continuous exalted levels of success can be attributed to the high levels of respect and dignity shown to victims and family members hurt in an accident.
For those injured outside one of the previously listed states, Lerner and Rowe has an established network of attorneys across the country, ready to help. The firm takes pride in nourishing these relationships as they know a personal injury attorney can make all the difference in obtaining fair compensation for the pain and suffering inflicted upon the victims of tortious conduct.
For more information about Lerner and Rowe Injury Attorneys in Tucson, please call 520-977-1900. To connect with the law firm socially, follow Lerner and Rowe on Twitter and Instagram, or become a fan of its Facebook page. Also, visit lernerandrowegivesback.com to learn more about the many other community services that the lawyers and legal support team of Lerner and Rowe actively support.
###