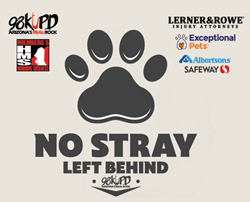 No Stray Left Behind Food Drive: December 5th through 18th to benefit Arizona Humane Society and Lost Our Home Pet Rescue.
PHOENIX (PRWEB) December 02, 2022
Lerner and Rowe donates $5,000 towards the inaugural No Stray Left Behind food drive created in partnership with Holmberg's Morning Sickness and Exceptional Pets. Proceeds raised through this charitable program will benefit the pet food banks at both Arizona Humane Society and Lost Our Home Pet Rescue.
Pet food donations can be dropped off at the KUPD studios, Lost Our Home Pet Rescue, or the Dobbins street Arizona Humane Society location December 5th through 18th. Learn more at 98kupd.com/no-stray-left-behind.
"Giving back to this community is one of our top priorities–that includes looking out for the welfare of our four-legged members. Which is why we couldn't be more pleased to support the life-saving and rehoming services offered by these two organizations," stated Kevin Rowe, Esq.
More and Lerner and Rowe
Lerner and Rowe Injury Attorneys is a powerhouse law firm in representing personal injury clients. Attorneys Glen Lerner and Kevin Rowe have grown their law firm into one of the largest personal injury firms in the country, with over 50 attorneys and nearly 400 support employees located in Arizona, Nevada, California, Illinois, Indiana, New Mexico, and Tennessee. The law firm's continuous exalted levels of success can be attributed to the high levels of respect and dignity shown to victims and family members hurt in an accident.
For those injured outside one of the previously listed states, Lerner and Rowe has an established network of attorneys across the country, ready to help. The firm takes pride in nourishing these relationships, as they know a personal injury attorney can make all the difference in obtaining fair compensation for the pain and suffering inflicted upon the victims of tortious conduct.
For more information about Lerner and Rowe Injury Attorneys, please call (602) 977-1900. To learn more about their Arizona criminal defense and bankruptcy law firm, Lerner and Rowe Law Group, call (602) 667-7777, or visit lernerandrowelawgroup.com.
To connect with the law firm socially, follow Lerner and Rowe on Twitter, Instagram, or TikTok and become a fan of its Facebook page. Also, visit lernerandrowegivesback.com to learn more about the many other community services that the lawyers and legal support team of Lerner and Rowe actively support.
###