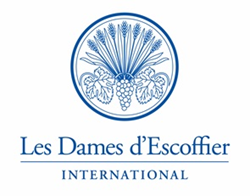 LOUISVILLE, Ky. (PRWEB) November 13, 2019
On Saturday, October 26, 2019, before an audience of over 300 in Nashville, TN, Bev Shaffer, owner of COOK.WRITE.TRAVEL.REPEAT (a culinary consulting company), was named President of Les Dames d'Escoffier International (LDEI).
LDEI includes over 2,400 women leaders and luminaries in a variety of professions within food, fine beverage and hospitality industries who share a vision to improve lives through education and philanthropy.
Shaffer follows Ann Stratte (Washington, DC) who will serve as past president on the board of directors. Shaffer will guide the organization over the next year and assist in the development of the 2020 conference slated for Oct. 15-18 in New York, NY.
Prior to her appointment as president, Shaffer served on the LDEI board contributing expertise in the areas of sponsorship and partner development, new chapter outreach and chapter
Shaffer brings to the office more than 30 years of culinary experience. Most recently she was Corporate Chef and Manager of Recipe Development for Vitamix World Headquarters. She has authored six cookbooks, developed over 18,000 recipes, and has written about food and travel for several Cleveland, OH newspapers and magazines. She produced an award-winning television series for cable TV and has cooked and presented at the James Beard House in New York, NY.
While all things culinary are at the forefront of Shaffer's life experience, she is also an advocate and ambassador for the Alzheimer's Impact Movement and a board member of the Alzheimer's Association.
LDEI is an international organization of women leaders who create a supportive culture in their communities to achieve excellence in the food, beverage, and hospitality professions. To do this, over 2,400 members in 44 chapters worldwide provide leadership, educational opportunities and host philanthropic events within their communities. For more information, visit LDEI.org