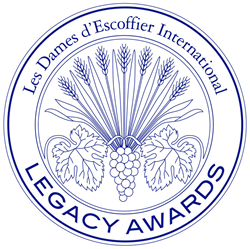 LOUISVILLE, Ky. (PRWEB) July 13, 2020
Six professional women, chosen as this year's Les Dames d'Escoffier International (LDEI) Legacy Award recipients, have each earned a culinary mentoring experience delivered by several of the organization's distinguished members.
Established in 2009 and generously supported by The Julia Child Foundation for Gastronomy and the Culinary Arts, LDEI's Legacy Awards competition is open to women who live within the organization's operational scope (the United States, Canada, Mexico, the United Kingdom and France) who have a minimum of four years of industry experience.
LDEI is an organization of women leaders in food, beverage and hospitality whose mission is education and philanthropy for the good of the global community. These Legacy Award recipients exemplify LDEI's tradition of excellence, career advancement and local community support:

Crystal Zhao, lead business analyst and process improvement manager for The Fish Guys, a seafood and meat supplier in Minnesota, awarded the Austin Food Chain Award from Quality Seafood Market in Austin, TX.
Katherine Rapin, journalist and managing editor of the Philadelphia Citizen in Philadelphia, PA, awarded the Chicago Journalism Award from Plate Magazine and Winsight Media in Chicago, IL.
Destiny Burns, founder and owner of CLE Urban Winery in Cleveland, OH, awarded the Wente Family Estates Wine & Hospitality Award from Wente Family Estates in Livermore, CA.
Christa Cotton, founder and CEO of New Orleans Beverage Group in New Orleans, LA, awarded the Mexico Fine Spirits Award from Jose Cuervo in Mexico.
Amethyst Ganaway, a line cook in Albuquerque, NM, awarded the New Orleans Culinary Award from Compère Lapin & The Southern Food and Beverage Museum in New Orleans, LA.
Tara Chapman, founder and owner of Two Hives Honey in Austin, TX, awarded the Sacramento Agriculture Award from culinary businesses in the famed Farm to Fork counties of Sacramento, CA.
###
Les Dames d'Escoffier International (LDEI) is a worldwide philanthropic organization of professional women leaders in the fields of food, fine beverage and hospitality. The invitation-only membership, composed of over 2,400 women in 44 chapters across the US, Canada, France, the United Kingdom and Mexico, is highly diversified and reflects the multifaceted fields of contemporary gastronomy and hospitality. For more information, visit http://www.ldei.org