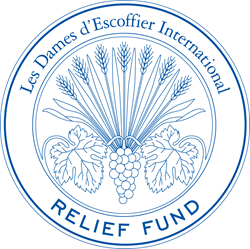 LOUISVILLE, Ky. (PRWEB) November 20, 2020
Les Dames d'Escoffier International is now accepting applications for the second round of its LDEI Relief Fund grants. The Fund was created in April 2020 in response to the Covid-19 pandemic to offer assistance to non-profit organizations who provide support to women impacted by disasters, such as the COVID-19 pandemic.
"With everything going on in the world, from job losses and businesses closing to the COVID-19 virus itself, Les Dames d'Escoffier International wanted to help," said LDEI President Judith Hollis Jones. "As a non-profit organization of women in the food, beverage and hospitality industries, our first instinct is to serve – be it food, drink, or financial assistance."
The first pair of $1000 grants was awarded in October to Made in New Orleans Foundation and Legal Services for Seniors. The second round of grants offers $2,500 to four organizations who meet the criteria and submit an application by Dec. 1. Recipients will be notified by Dec. 8 and funds will be distributed on Dec. 15.
"We are so grateful to our members who established this Fund with their own donations, and to Tito's Vodka, which matched donations made during our virtual conference in October," added Hollis Jones. "We hope to announce future grant availability to keep the assistance flowing to those who need it."
Interested applicants must be established 501(c)3 organizations, NGOs or internationally recognized non-profits for at least three years. All application criteria and a downloadable application can be found here.
LDEI is an international organization of women leaders who create a supportive culture in their communities to achieve excellence in the food, beverage and hospitality fields. To do this, 2,400 members in 43 chapters worldwide provide leadership, educational opportunities and philanthropy within their communities. For more information, visit LDEI.org and follow us on Facebook, Instagram, Linked-in and Twitter.