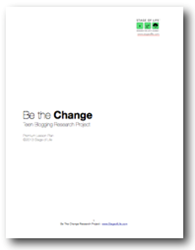 Chicago, IL (PRWEB) August 31, 2014
StageofLife.com, online writing community for high school students, announced the release of a Language Arts research project lesson plan about teen blogging designed to get teens to take an active part in helping to make the world a better place.
The blogging lesson plan is entitled, "Be The Change - Teen Research Blogging Project," and is a 35-page, detailed PDF document that walks high school teachers through the process of introducing blogging to their students.
Rebecca Thiegs, VP of Education for StageofLife.com, created and piloted the research project for her Honors Language Arts classes.
"As soon as an English teacher says the words 'research project' students moan'" said Thiegs. "As I stressed about how to integrate more technology into my curriculum, how to teach to inspire my students, how to integrate new state standards, and how to keep my own sanity, I had a moment of clarity where my ideas converged into the Be The Change blogging project."
Details shared in the Be The Change blogging lesson plan include:
--Choosing a topic - creating a vision board / sharing ideas
--Setting up a Blogger account through Google and the basics of blogging - project collaboration / reflection
--Researching - source requirements, tools needed, specifics of how to annotate or collect information
--Required reading of a non-fiction book with a Literary Tea discussion day
--Writing the Research Paper
--Writing a "Dear Reader Letter" for reflection on the process steps and final products
--Presenting the Be the Change Research to the Class
--Spreading the Word and Implementing Change
Objectives for the teen blogging project include:
--Students will be able to be more meta-cognitive throughout the research paper process
--Students will be able to utilize technology (blogging) for creativity and collaboration throughout the research period
--Students will be able to research deeply using advanced research strategies
--Students will be able to write a research paper based on rich thinking and extensive collaboration
--Students will be able to present highlights of their research to the class
--Students will be able to engage in real world writing (beyond the classroom walls) through blogging and through a final implementation piece.
The StageofLife.com "Be the Change" project takes about 5 weeks to complete, but it can be longer or shorter depending on the time the instructor give students to work in class.
This research paper lesson plan meets Common Core Standards for Writing / Research / Speaking and Listening (grades 9-12) and NETS (Technology Standards), and it is also adaptable for homeschooling or private schooling.
For more information on the Be The Change - Teen Blogging Research Project or other Lesson Plans for Language Arts Teachers visit http://www.StageofLife.com.
# # #
StageofLife.com is a privately held startup company founded in 2009. As an educational writing resource, StageofLife.com is home to nearly a million teen and teacher visitors each school year, 5+ million uploaded words, and thousands of submitted essays. The site's featured writing resources include writing contests for high school students, blogging tips, Language Arts lesson plans, goal setting worksheets, classroom writing prompts, and more.