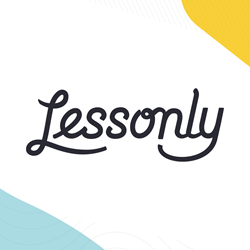 "We know the value that Lessonly brings to our team, and it's exciting to see our customers winning with Lessonly as well."—Brett Runyan, VP of Sales at Lessonly
INDIANAPOLIS (PRWEB) July 21, 2021
Lessonly, the training, coaching, and enablement solution for high-growth sales and customer service teams today announced its first-ever Total Economic Impact™ (TEI) study conducted by Forrester Consulting. In order to determine the scope of the cost savings and business benefits enabled by Lessonly, Forrester interviewed a US-based fintech company that has taken advantage of Lessonly's services since late 2019. The company has 6,000 total employees, 850 of whom are salespeople training with Lessonly.
The commissioned Forrester study reveals the company saw the following benefits after implementing Lessonly's training services:

Increased cross-selling: The company now trains its field sales team on new products and cross-selling best practices. The training has added $63 million to the sales pipeline.
Faster sales team onboarding: The onboarding of new staff is now 62.5% faster with Lessonly. The company revamped its new hire onboarding process through Lessonly, cutting the onboarding process down from eight weeks to just three.
Decommission legacy learning management system: By adopting Lessonly, the company was able to decommission its prior learning management solution.
Forrester estimates the return on investment (ROI) realized after deploying Lessonly will be 124% after three years. Additionally, the customer's sales team rated Lessonly's training 99.2% in satisfaction and 98% of reps agreed the training will help them sell better virtually.
This particular customer needed an easier way of delivering training to its enterprise-wide organization. Before Lessonly, the customer's sales team relied on different subject matter experts and product managers for manual, ad hoc training instead of a set curriculum. On top of that, creating and maintaining training modules proved to be cumbersome, and new sellers found themselves listening to pre-recorded sessions that were often out-of-date or included incorrect information.
The company also lacked a sales certification process, which forced the sales enablement team to use manual processes to track which sellers were trained on different skills. "[Before Lessonly,] we were doing a lot of manual training. We didn't have a formal virtual training platform," explained the Director of Sales Readiness. "It was ad hoc. We needed a more refined training and certification approach."
"Our goal is to help companies progress their business forward, and we really focus on becoming a partner for our customers," said Brett Runyan, VP of Sales at Lessonly. "We know the value that Lessonly brings to our team, and it's exciting to see our customers winning with Lessonly as well."
An additional Forrester TEI research study on Lessonly for Customer Service Enablement will be released in Fall 2021. The research focuses on Lessonly's impact on one of the world's largest telecommunications companies that uses Lessonly to train 40,000+ customer service representatives. To learn more about Lessonly, visit lessonly.com. To access the published study referenced, click here.
About Lessonly
Lessonly is a powerfully simple training, coaching, and enablement solution that helps frontline teams ramp faster, deliver effective feedback, and continuously improve. Lessonly currently empowers nearly four million learners at more than 1,200 leading companies including Scholastic, Jostens, and U.S. Cellular to share knowledge, develop skills, and reinforce best practices. The results? Higher NPS scores, more deals closed, and a superior customer experience. To learn more about Lessonly, visit http://www.lessonly.com.