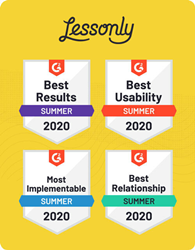 "Our goal is to make software that helps customer service and sales teams Do Better Work,. These reviews and awards are a testament to this goal, and we're so thankful to work with innovative customers who provide valuable feedback."— Conner Burt, Lessonly President
INDIANAPOLIS (PRWEB) July 21, 2020
Lessonly, the leader in online training software, celebrates four "Top Corporate LMS" awards from G2, the largest business commerce platform and software user review site.
These awards, based on customer reviews, rated Lessonly with top scores across a variety of learning management software reports that examine Usability, Implementation, Relationship, and Results.
G2's Usability and Implementation reports consider customer feedback around ease of setup and use, how much the platform meets requirements, and how well adopted it's by employees. The Relationship and Results awards highlight how likely Lessonly's customers are to recommend the platform to others, the quality of support, and the estimated return on investment.
"Lessonly provides excellent training software to allow teams to build their employees up to learn how to be better. It's easy to manage and allow other learners to view your product in a training module that is out of the box," said one customer, Danee, in a G2 review of the platform. "Lessonly's employees are great as well. All of them are so welcoming and always smiling no matter the day or time. It's really nice to be a part of a community like this."
"Our goal is to make software that helps customer service and sales teams Do Better Work," said Conner Burt, Lessonly's President. "These reviews and awards are a testament to this goal, and we're so thankful to work with innovative customers who provide valuable feedback."
G2 gathers reviews from its user community, as well as data from online sources and social networks. Each quarter, G2 evaluates this data and names high-performing leaders across a variety of categories, including learning management software. Lessonly also received accolades in sales training and onboarding, sales coaching, and course authoring, for a total of 40 awards across four categories. Learn more about G2 and see Lessonly reviews here.
Lessonly continues to partner with Fortune 100 and high-growth companies alike to deliver meaningful training and enablement to customer-facing employees. To learn more about Lessonly's products and services—or their llama mascot Ollie—visit Lessonly.com.
About Lessonly
Lessonly is powerfully simple training software that helps teams learn, practice, and Do Better Work. We are used by 3 million learners at more than 1,000 leading companies including SalesLoft, Trunk Club, Jostens, and U.S. Cellular to power enablement, develop skills, and reinforce best practices. The result is faster onboarding, higher NPS scores, more closed deals, and a superior customer experience. Learn more at Lessonly.com.