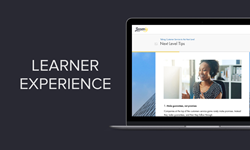 "We want to help people do better work. A key to this is helping learners discover and find whatever they need, faster. This update does exactly that." —Max Yoder, Lessonly CEO and co-founder
INDIANAPOLIS (PRWEB) July 18, 2018
Lessonly, the leader in online training software, yesterday released a series of improvements to their platform's user experience. The updates include centralizing training into one hub, expanding the search capabilities of the platform, and bringing greater branding and customization to Lessonly.
"We want to help people do better work," said Max Yoder, CEO and co-founder of Lessonly. "A key to this is helping learners discover and find whatever they need, faster. This update does exactly that."
The new updates to the platform will roll out to Lessonly users this month and will include:
One redesigned, simplified hub for learning - All training content, from Assignments to Learning Library, has been streamlined into one page with easy-to-use sorting options. Custom images for topics, paths, and lessons make it easy for learners to quickly find what they need.
Improved search functionality - New instant search functionality dynamically reveals content that matches search queries. In beta testing, the new search functionality helped learners find training content up to 50% faster and more accurately.
New branding and imagery options - Companies now have more control over how their training looks. From login pages, to lesson backgrounds, and other CSS styling—including custom fonts, sizing, and colors—the training experience is now fully-tailored to match brand standards.
Interested parties can learn more about the new release at lessonly.com/newlook.
Lessonly's updated learner experience comes on the heels of two other product releases. In May, the company released Practice, which enables frontline employees—like sales and customer service reps—to hone their omnichannel communication skills through features like Chat Practice, Video Response, and Email Response. In June, they released Insights—an analytics dashboard for measuring training engagement and satisfaction. The company continues to regularly elevate their training platform with new features, functionality, and partnerships.
In 2018, Lessonly's team and customer base have continued to grow rapidly. They are now hiring for positions in Sales, Operations, and Product & Engineering. Visit lessonly.com/hiring to see available positions.
About Lessonly
Lessonly is powerfully simple training software that helps teams learn, practice, and do better work. We are used by 1.6 million learners at more than 550 leading companies including Cisco, Trunk Club, Jostens, and U.S. Cellular to share knowledge, develop skills, and reinforce best practices. The result is faster onboarding, higher NPS scores, more closed deals, and a superior customer experience. Learn more at Lessonly.com.