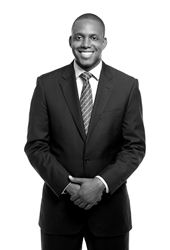 ATLANTA (PRWEB) August 18, 2020
On October 1, 2020, Lester M. Simpson will assume his role as partner in Windsor Stevens Holding LLC, joining the company's leadership team.
Simpson, an experienced investment professional, will help the company's executive team lead Windsor Stevens' investment strategies and real estate development. Simpson, who holds an MBA from The Wharton School at the University of Pennsylvania, comes to Windsor Stevens with extensive experience in market analysis and project management.
He has helmed Wharton Equity Partners, an Ohio-based company, since 2018. In that role and previous positions, he developed his expertise in implementing successful market strategies and providing long-term value to real estate portfolios. In addition to leading Wharton Equity Partners, he served as director and program manager for Axiologic Solutions and Booz Allen Hamilton, where he led multi-level teams through engineering project lifecycles.
Rod Mullice, managing partner for Windsor Stevens, said that he welcomes Simpson to the company. He added that he is looking forward to the financial analysis and project management proficiency Simpson can bring to Windsor Stevens' expanding portfolio.
"We are fortunate to have such an accomplished individual to advance our vision for The Connected Lifestyle," Mullice said. "His professionalism will help us continue to create communities designed to offer alternative transportation, high technology, and contemporary style. We value his skills and experience in leading high-quality projects from concept to completion and feel that he will be an excellent partner on our Windsor Stevens team."
Simpson said that he will keep the legacy of Atlanta's social justice leadership central to his mission with Windsor Stevens.
"I am excited to join Windsor Stevens and grateful for the opportunity to help craft the evolving landscape of Atlanta by developing spaces where people can thrive while remaining socially and economically responsible," Simpson said. "Additionally, I am forever indebted to the giants who paved the way for me to positively impact the communities we serve and upon whose shoulders I stand."
In addition to his MBA in finance and real estate from Wharton, Simpson holds an MS degree in electrical engineering from Michigan State University and a BS in electrical engineering from North Carolina A&T State University. He also has completed numerous advanced training courses in real estate and management leadership, and is a certified project management professional (PMP).
Windsor Stevens aspires to provide a new model for real estate development, one that honors the best of local cultural traditions while creating a built environment that is economically, socially, and environmentally sustainable. With a strategic focus on transit-oriented development (TOD), Windsor Stevens is committed to creating walkable, vibrant, livable urban communities near mass transit. The company's mixed-use developments include a long list of amenities that contribute to what it calls The Connected Lifestyle. This includes multi-family residential choices that provide easy access to transportation alternatives, high-tech amenities, and efficient, modern design principles.
To learn more about Windsor Stevens and its properties, visit http://www.windsorstevens.com.