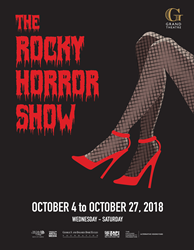 SALT LAKE CITY, Utah (PRWEB) September 17, 2018
The Grand Theatre, sponsored by Salt Lake Community College, is proud to present Richard O'Brien's The Rocky Horror Show, running October 4 – 27, 2018.
As a humorous tribute to classic science fiction and B-horror films, The Rocky Horror Show centers around squeaky clean couple, Brad and Janet. The pair innocently sets out to see an old professor, but car trouble forces them to seek help at the castle of the alien-transvestite scientist, Dr. Frank N. Furter. As they get mixed up in the night's misadventures, they begin to question everything they know. Filled with over-the-top characters, outrageous plot twists and an unforgettable rock score, this show is unlike any other.
The Grand will have prop bags available for purchase and asks that patrons refrain from bringing their own props.
In addition, on the show's opening night The Grand will have an American Sign Language interpreter to sign the performance. Those in need of an interpreter can reserve seats by contacting Breezy Bassett at 801-957-3033 or Breanna.Bassett(at)slcc.edu.
"The Rocky Horror Show" is under the direction of Anne Stewart Mark, with musical direction by Dave Evanoff. Performances will take place Wednesday-Saturday at 7:30 p.m. with a Saturday matinee at 2 p.m. Tickets are $17 - $23 and can be purchased at 801-957-3322 or http://www.GrandTheatreCompany.com. As always, high school students receive one free ticket with their school ID.
The Rocky Horror Show is rated R for adult themes and strong language.
The Grand Theatre is a 1,100-seat venue located at Salt Lake Community College's historic South City Campus, home of the innovative and state-of-the-industry Center for Arts and Media at 1575 South State Street in Salt Lake City. The theatre dates back to the 1930s and has since with great care and expense retained its Depression-era charm and attraction while also incorporating the latest technology in lighting and sound. For the past four years it has been an official screening venue for the annual Sundance Film Festival. Every season the Grand is host to award-winning theatre and dance productions and concerts that attract arts enthusiasts from all along the Wasatch Front.