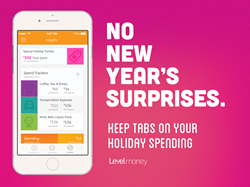 ...our Holiday Tracker can help you keep a lid on the overspending that usually accompanies the holidays.
San Francisco, CA (PRWEB) November 25, 2014
Level Money (http://www.levelmoney.com), the mobile-first financial services company, today releases a holiday gift to its users on its free iOS and Android applications: a special Holiday Spending Tracker that lets users group all their holiday spending in one place, from any merchant. Located in the Insights section of the app, the Holiday Tracker acts as a running tally of holiday spending, putting users in control of their money at a time when holiday spending is expected to increase by 13% to almost $1,300 per household.
The Holiday Tracker joins Level's existing suite of capabilities, which give its users a radically simple way to manage money. In addition to viewing their overall spending with just a glance, users can quickly and easily select all their holiday purchases - whether it's gifts, food, travel or events - and bucket them in one place, for complete control of their holiday budget. Tallying holiday spending is just a swipe away: users can swipe left on any transaction to add it to the holiday total.
"The holidays are the most joyous time of year, but for many they are also the most stressful," said Level CEO and co-founder, Jake Fuentes. "Most of that stress comes from the added pressure on your finances. Level Money can help you get back in control. Level's app gives you full visibility into your financial picture, and our Holiday Tracker can help you keep a lid on the overspending that usually accompanies the holidays."
The free Holiday Tracker complements Level's recently released Insights capability, which is designed to provide the simplest possible view of money. The feature will be released Tuesday, November 25, 2014 to all new and existing Level users, just in time for the holiday shopping season. Download the iOS app at Apple App Store or the Android app at Google Play Store.
"Use our Holiday Tracker to help avoid having a financial hangover in the New Year," Fuentes adds.
About Level Money
Level Money is the leader in helping the next generation spend less, save more and achieve financial balance. Level's award-winning personal finance app is a simple tool to automatically analyze your financial picture. With over 700,000 downloads to date, Level's goal is to create a fully-integrated, next-generation financial services company designed for the 21st century. Committed to confidentiality and privacy, Level has 128-bit SSL and AES bank and financial institution encryption and security, as well as industry security verification by Intuit, McAfee and TRUSTe. Launched in 2013, Level is headquartered in San Francisco, California and funded by Kleiner Perkins Caufield & Byers. For more information, visit levelmoney.com and follow Level Money on Twitter: http://www.twitter.com/levelmoney.
Press Contact:
Erin Tselenchuk
Level Money, PR
press(at)levelmoney(dot)com
925-639-7615
http://www.levelmoney.com
###