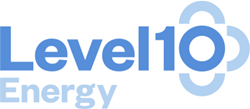 SEATTLE (PRWEB) September 28, 2020
LevelTen Energy is honored to be recognized by three prominent organizations for its innovation in the renewable energy industry. LevelTen received a 2020 Green Power Leadership Award from the Center for Resource Solutions (CRS) and Environmental Protection Agency (EPA), joining AT&T, Clean Power Alliance, Google LLC., and Tennessee Valley Authority as winners in the "Green Power Market Development" category. LevelTen was also named a finalist for the S&P Global Platts Global Energy Awards, and earned a Business Achievement Award from the Climate Change Business Journal.
"By delivering the platform and standards that renewable energy buyers, sellers, advisors, and financiers need to get deals done more quickly, LevelTen Energy is providing the transaction infrastructure needed to accelerate the clean energy transition," said Bryce Smith, chief executive officer of LevelTen Energy. "We'd like to thank each of these organizations for recognizing LevelTen's contribution to the renewable energy market, and to congratulate our fellow recipients, who have also impacted the industry tremendously."
The "Green Power Market Development" category of the Green Power Leadership Awards recognizes organizations growing the voluntary market for green power. The annual awards were presented during the Renewable Energy Markets 2020 conference on Sept. 22.
"We are proud this year to honor an exceptional group of companies, organizations, and individuals who have been working separately together to advance one of the most important goals of our lifetime—the transition to clean, renewable energy," said Jennifer Martin, executive director of CRS, which co-presents the annual awards with the U.S. EPA's Clean Power Partnership. "In a year that underscored the immediacy of the climate challenge, these winners demonstrated the willingness and determination to act today in a way that benefits us all."
LevelTen was also named a finalist in the "Rising Star" category of the S&P Global Energy Awards, which are often described as "the Oscars" of the energy industry. Winners will be revealed by Jason Alexander at the virtual awards ceremony on December 10, 2020. According to S&P Global Platts, "Being a finalist is important because the Global Energy Awards indicate the direction in which the industry is headed. It is foretelling, not of what blogs, media and speculators say, but rather where the industry is putting their resources, their hope, their wagers and ultimately, their money." Rising Star recognizes businesses that are establishing themselves as a key player in the energy industry.
The Global Energy Awards, nominations and finalists continue to reflect the evolution of the industry, highlighting technology innovations, as well as accelerated focus on energy transition to a lower-carbon environment," said Martin Fraenkel, president, S&P Global Platts. "Innovation, resolve and transformation were characteristic throughout this year's applications and each of the finalists and nominees are to be congratulated for their accomplishments."
LevelTen's third award announced today was the Climate Change Business Journal's "Business Achievement Award", which was presented at the Environmental Industry Summit XVIII on Sept. 10, 2020. The awards recognize "outstanding business performance and achievements in the climate change industry." In its coverage of the award winners, CCBJ said that LevelTen Energy received the award for its innovative work in delivering portfolios of power purchase agreements to renewable energy buyers, as well as its funding round in 2019.
About LevelTen Energy
LevelTen Energy is the leading provider of transaction infrastructure for the renewable energy economy. Our platform delivers buyers, sellers, advisors, and financiers the automation software, data management, and standardized contracts needed to facilitate faster, safer renewable energy transactions. LevelTen's marketplace of renewable energy power purchase agreements is the world's largest, with more than 3,800 Transaction-Ready Pricing™ offers spanning 21 countries in North America and Europe. LevelTen's CFO-Ready Analytics™ automatically calculate more than a billion data points every day, providing our partners with leading-edge, real-time risk and value insights at modern market scale. Together, LevelTen and our partners share #OneGoal to accelerate the clean energy transition. Visit us at LevelTenEnergy.com to learn more.