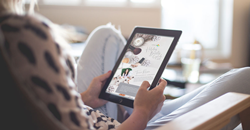 "While most of us have our go-to makeup, hairstyle and fashion looks that we dust off for the holidays, the Lexli Holiday Beauty Guide presents ideas to help women shake things up a bit, allowing them to look their most glamorous and feel their very best." Stacey Stark, Director of Marketing, Lexli
FARGO, N.D. (PRWEB) November 05, 2019
Lexli International Inc., the premier brand of advanced aloe vera skin care, today released its first annual Holiday Beauty Guide, a free ebook that features makeup, skin care and hairstyle tips from leading beauty influencers and professionals.
Available for download at the Lexli website, the 2019 Holiday Beauty Guide is intended to make it easy for women to look their most glamorous during the holidays without a lot of extra work.
"This season of social engagements, photos and family gatherings brings pressure to look our best, which can feel like yet another thing to think about when our plate is already overflowing," said Stacey Stark, director of marketing at Lexli. "Our intention in creating the Holiday Beauty Guide was to round up some of the favorite tips and hacks of leading beauty influencers and professionals who work in the aesthetics industry. Ultimately, we feel we've created a tool that will help women look and feel their best during the holidays and beyond without requiring a lot of extra time."
Among those featured in the 2019 Lexli Holiday Beauty Guide are:

Katelynn Rutt
Francesca Gariano
Priyanka Patel
Kim Augustine
Terra Roisin
Kylie Kreischer
Dr. Wasifa Ahmad Hasan
Diane Mary
Fallon Helm (Revive Day Spa)
Psyche Southwell
Stephenie & Adrienne Vendetti (How to Be a Redhead)
Samantha Nelson (Josef's School of Hair, Skin & Body)
Louida Martin
Carolann Iadarola
Jenni Nagel/Barry Eichner
Elizabeth Hugen
Jenn Burklow
Dr. Ahmed Abdullah
The 2019 Holiday Beauty Guide can be downloaded free at http://www.lexli.com/lexli-holiday-beauty-guide-2019/.
About Lexli:
Founded in 1996 by Dr. Ahmed Abdullah, a board-certified plastic surgeon and noted aloe researcher, Lexli is the premier line of aloe vera skin care products. The company offers a full-range of advanced solutions for daily skin maintenance, specific skin concerns and the signs of aging, including AloeGlyC®, the advanced facial glycolic acid exfoliator; Lightening Lift, a unique aloe vera face mask; and the Acne Kit, one of the most potent and comprehensive acne treatments available without a prescription.
Lexli products are sold by licensed skin care professionals throughout the United States and in select countries worldwide, as well as online at the Lexli website.
For more information visit lexli.com, Facebook or Instagram.