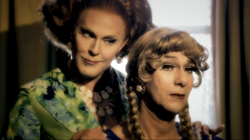 San Francisco is the perfect place to premiere Hush Up Sweet Charlotte, a hysterical, ridiculous comedy featuring performances by many beloved San Francisco performers
San Franscisco, California (PRWEB) October 07, 2015
Here TV announced today that its new film, Hush Up Sweet Charlotte, directed by Billy Clift, will premiere in San Francisco on Wednesday, October 28, at the Castro Theatre. The camp comedy, which parodies a similarly titled classic film, has been well received by audiences at several American LGBT film festivals this past summer.
The premiere event will feature a VIP pre-party and a meet-and-greet with the cast. The main event will feature live performances by cast members Varla Jean Merman and Matthew Martin preceding the film. Oasis Nightclub will host the after-party, also to feature special performances.
"San Francisco is the perfect place to premiere Hush Up Sweet Charlotte, a hysterical, ridiculous comedy featuring performances by many beloved San Francisco performers," says Robert Hebert, Here TV's Senior Director of Consumer Marketing. "I cannot imagine a better venue in the world than the Castro Theatre for this film's premiere."
Director Billy Clift says, "Hush Up Sweet Charlotte was filmed in the magical city of San Francisco, and screening in this city at the iconic Castro Theatre is a dream come true. San Francisco audiences are like no other audiences in the world. They appreciate creativity and originality but also the effort that goes into filmmaking."
Hush Up is the story of an aging, reclusive Southern belle with a horrifying family secret. It tracks her descent into madness (with the help of a relative and the family doctor) as she fights to save her family's historic plantation. Will she keep her sanity and home, or will she lose it all to divisive interlopers with their own agendas? The film keeps everyone guessing until the very end. The film is a sequel to Billy Clift's now-infamous cult classic, Baby Jane?
Event Information
Date: Wednesday, October 28
Time: 7:30 p.m.
Venue: Castro Theatre, 429 Castro St., San Francisco, CA 94114
Tickets are $15, best purchased in advance at hushup.bpt.me. Limited tickets will be available at the Castro Theatre box office the day of the event.