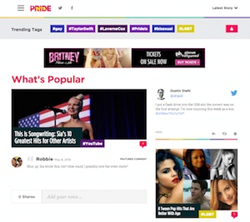 Our mission is to create fun and entertaining content for a new generation of LGBTs and their social circles, as well as be a place for positive, inspiring conversation.
LOS ANGELES (PRWEB) May 11, 2015
Here Media, the world's leading LGBT media company, today launched the new social entertainment network Pride.com, a content and conversation destination where pride belongs to everyone. Pride.com gives millennials new tools to amplify their digital voices, raise their social profiles, and lead inspiring conversations fueled by timely, entertaining content.
 
Pride.com makes it a priority to report on currently trending topics and prominently features user-submitted comments, content, and photography. In addition, Pride.com publishes bite-sized stories, clever and comical listicles, and original video content — all connected to top-trending hashtags.  
"Our mission is to create fun and entertaining content for a new generation of LGBTs and their social circles, as well as be a place for positive, inspiring conversation," explains Robert Hebert, Here Media's director of consumer marketing. "Pride.com will promote emerging voices and move the culture forward through stories and videos that our audience is proud to engage with and share." 
Developed by Livefyre and powered by Livefyre Studio, Pride.com uses real-time interactions to inform its editorial focus and promotion, leveraging conversations to create real-time social experiences. Members use their existing Facebook, Twitter, Instagram, Tumblr, or Google+ profiles to instantly log in and engage with other members around the content that matters most to them. 
Here Media Editorial Director Lucas Grindley adds, "Sharing our content helps you be proud of who you are, no matter which social media account you're using, because Pride.com reflects your life. So many people have told us during the conception of Pride.com that, finally, here's a site that truly reflects who I am and what I love. Pride.com isn't just for one kind of person; it is for everyone." 
The launch of Pride.com bolsters Here Media's reach to millennials and compliments its existing family of iconic media brands, including The Advocate, OUT, Gay.com, and Here TV, among others. "We already have the strongest brands in the market reaching an established LGBT audience," says Joe Landry, Here Media executive vice president. "This new product reaches a new audience in the voice and format in which they consume media. Ultimately, the platform is for all equality-minded 20-somethings with an interest in content presented through an LGBT lens. We have had a very strong response from the advertising market in pre-launch and expect the launch of Pride.com to be wildly successful." 
Add your voice to Pride.com today!  
About Here Media 
Here Media Inc. produces and distributes content across all platforms worldwide. Here Media's iconic brands distribute LGBT media with universal, humanistic appeal. Its distribution platforms include television, VOD, broadband, online, print, and mobile.  
Here Media owns and operates these diverse media assets: 

Iconic brands including OUT, The Advocate, Here TV, and Gay.com
Web properties including Gay.com, Advocate.com, Out.com, OutTraveler.com, SheWired.com, and HIVPlusmag.com
 
Forward-Looking Statements
In addition to the historical information contained herein, this press release may contain forward-looking statements. Such forward-looking statements involve known and unknown risks, uncertainties, and other factors which may cause the actual results, performance, or achievements of the company to differ materially from any future results, performance, or achievements expressed or implied by such forward-looking statements. Such factors include, among others, the limited operating history and variability of operating results; ability to achieve its operating plan; competition; timing and success of product launches; success of marketing efforts; and dependence on technology infrastructure, cable and satellite operators, and the Internet.