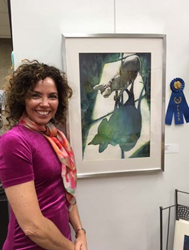 "Congratulations to Liana for her award-winning painting," said Lauren Dickinson, Publicity Director, TVAA. "She is truly a talented artist. As this is a juried exhibition, to be awarded 1st place recognition among her artist peers is a distinguished accomplishment."
DALLAS (PRWEB) October 12, 2018
Liana Yarckin, whose exquisite watercolor scenes exude beauty, joy, and distinctive stories, was recognized this weekend at the 2018 Texas Visual Arts Association (TVAA) Art Gallery exhibition held downtown Dallas. Her work, "Curiosity," garnered first-place at the gallery, in the Plaza of the Americas."
As a non-profit organization representing a diverse community of visual artists working in all media, TVAA curates monthly exhibition opportunities. Yarckin's award-winning watercolor is exhibited along with the show's other art works throughout the month of October.
"Congratulations to Liana for her award-winning painting," said Lauren Dickinson, Publicity Director, TVAA. "She is truly a talented artist. As this is a juried exhibition, to be awarded 1st place recognition among her artist peers is a distinguished accomplishment."
"We were thrilled to receive Liana's beautiful artwork for the October show, curated by local artist, Callandra Smith," added Dickinson.
2018 is a stellar year for Yarckin. Initiating in January with the selection of her "Texas Star" painting by the Dallas Business Journal for inclusion in its highly-regarded Book of Lists, Yarckin's works have been showcased in regional art shows and galleries along with her commissioned projects.
Most recently, Yarckin was invited by the tony Stanley Korshak in Dallas to host a trunk show on Friday, November 9, 2018, 11:00 AM – 2:00 PM, 500 Crescent Court, Cedar Springs at Maple. Noted for the highest level of service and exclusive, luxury goods merchandise, Stanley Korshak is the largest independent department store in the United States.
For her debut trunk show, Yarckin will feature original art, scarves, and accessories. And, she notes, "a few other surprises perfect for gifts!"
For more information, https://www.lianayarckin.com; http://www.artbyliana.blogspot.com