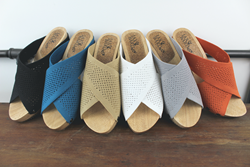 We're proud to focus on slow fashion with responsibly sourced and produced footwear while still delivering a fun, fashionable and comfortable new world clog.
GRAY, Maine (PRWEB) May 28, 2020
JAX & BARD® Shoes has launched a crowdfunding campaign on Kickstarter to raise funds to support further development of their line of revolutionary new modern-clog styles, utilizing production resources and methods that mix old-world craftsmanship with new world style. The company set out to raise an initial $10,000 on Kickstarter to produce the first batch of their latest innovative design, the Libby Hill Sandal.
Named after a popular outdoor trail system in the center of a small Maine town, the modern-style Libby Hill clog is hand assembled using responsibly sourced materials, including a gently contoured sustainable lightweight hardwood base, a fly-knit upper made from recycled material that offers a custom fit to secure the foot, a natural plant-based, skid-proof rubber sole, and natural cork labels. The Libby Hill Sandal is available in six color options: black, cayenne red, granite grey, maple cream, marine blue, and white.
Use of modern fly-knit technology and sustainably sourced wood base in the Libby Hill Sandal allows JAX & BARD®, to continue its commitment to "slow fashion", focusing on pairing thoughtful, timeless designs with product sustainability:

Utilizing production resources and methods that mix old-world craftsmanship with new world style
Selecting production partners who do not exploit workers or product
Sourcing sustainable, long lasting, natural and recycled materials
Limiting production and stock of product, avoiding excessive product waste
Creating footwear intended to stand the test of time, resulting in multiple season use of footwear and minimizing need for replacement
Using minimal packaging and encouraging thoughtful re-use of packing materials
Supporting women's needs through contributions to organizations focused on strengthening women.
Backers can pre-order the Libby Hill Sandal on Kickstarter, at https://www.kickstarter.com/projects/jaxandbard/libby-hill-sandal.
Additional in-stock styles are available at https://jaxandbard.shoes/collections/retail.