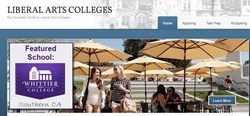 LiberalArtsColleges.com is fast becoming the go-to site for students and parents!
San Diego, CA (PRWEB) October 29, 2013
Whittier College, a four-year school located near Los Angeles, has chosen LiberalArtsColleges.com to reach more high school students and their parents. As a featured school on the website, Whittier College highlights the traits that make it unique among other private schools. Ultimately, by partnering with LiberalArtsColleges.com, Whittier College, founded in 1887, will make it easier for prospective students to discover the distinguished institution.
Recently launched, LiberalArtsColleges.com promotes the value of a private, liberal arts education. When asked how the site helps students and families during the school selection process, Fred Pfursich, Whittier's Vice President of Enrollment, provided three reasons: "First, the site gives students a sense of the wide variety of liberal arts colleges. Second, the site has very informative college profiles that go beyond data and rankings. Third, LiberalArtsColleges.com approaches everything from the student perspective."
Commented David Kochanek, the site's publisher, "Whittier College has long been recognized as a pioneer in academic innovation, even when compared to much larger institutions. We are proud to call Whittier one of our first partners in this endeavor."
With so many college directories and listings available, Pfursich explained why Whittier chose LiberalArtsColleges.com, a relative newcomer to the space: "I think it provides great insight into the benefits of attending a liberal arts college. It is fast becoming the go-to site for students and parents!"
For more information about Whittier College, visit http://www.liberalartscolleges.com/featured/whittier-college-highlights.
About LiberalArtsColleges.com
LiberalArtsColleges.com provides more than statistics and college listings. The site promotes the value of a liberal arts education to students, parents, and high school counselors, and gives colleges the opportunity to highlight their unique characteristics. The goal is to make it easy for students to discover schools they would not have previously considered.