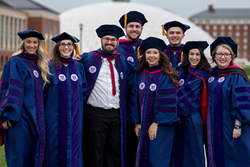 "These recent results testify to the fact that Liberty Law provides its students with a quality education and prepares them for successful legal careers." —Liberty University President Jerry Falwell
LYNCHBURG, Va. (PRWEB) November 21, 2018
The Bar Exam results are in, and Liberty University School of Law 2018 graduates posted the highest bar passage rate among first time test takers in school history, with 95.65 percent passing this year. The results include both the February and July Bar Exams.
"This is a huge milestone — we beat our previous record by nearly five points," Liberty Law Dean B. Keith Faulkner said. "We have a lot of forward momentum thanks to the hard work and dedication of our faculty and the phenomenal performance of our graduates."
"I'm thrilled at the ongoing achievements made by our School of Law," added President Jerry Falwell. "These recent results testify to the fact that Liberty Law provides its students with a quality education and prepares them for successful legal careers."
Liberty Law also recently saw its highest employment rate to date in the Class of 2017 (numbers for this year's class will be finalized next spring).
The Liberty Law Class of 2018 took the bar in 15 jurisdictions, achieving a 100 percent pass rate in all but Virginia, where the rate was 88.24 percent. The national average for first-time Bar Exam takers from American Bar Association (ABA) accredited law schools in 2017 was 75 percent. The number that same year was 59 percent overall, 64 percent among all ABA accredited law school graduates.
Faulkner noted that Virginia is historically among the most difficult exams in the nation. He also pointed out that it is extremely rare for a law school to have graduates take the bar in so many different jurisdictions. Therefore, most law schools focus on preparing their students to take the bar in the state they are in.
"At Liberty, we don't just teach you to pass a state bar, we train you to think like a lawyer and that translates to any jurisdiction," Faulkner said.
Professor of Law Rena Lindevaldsen explained that Liberty makes a huge commitment to the academic and Bar Exam success of its students, including regular assessments and encouragement from faculty.
"I am thrilled for this year's record success on the Bar Exam," she said. "As a law school, we can have confidence that we are preparing our students to fulfill their calling to be attorneys. On a personal level, it is such a blessing to come alongside each of these students as they prepare to tackle the Bar Exam. They worked so hard, and God blessed them with amazing results."
Sydney Phillips, Liberty Law Class of 2018, was recently hired as litigation counsel at Freedom Foundation in Olympia, Wash. She passed her July Bar Exam in the Evergreen State.
"I had the most incredible experience at Liberty Law," Phillips said. "The bar is one of the toughest experiences of my life, yet I was able to walk out of the exam at the end of the second day knowing that Liberty Law had gone above and beyond to prepare me. From professors who answered questions throughout the summer, to a wonderful alumni mentor and prayer partner, and other classmates who had become family, I knew that Liberty Law was putting in just as much work, if not more, to prepare me for the bar."
Micah Long ('18), a legal fellow with Liberty's Office of Legal Affairs, passed his Virginia Bar Exam in July.
"I think Liberty is the best law school in the nation in terms of preparing its students and graduates for the bar," he said. "From day one, they designed the program to maximize our chance of passing the bar."
Long explained that the university assigned each student planning to take the bar faculty and alumni mentors who encouraged and prayed for them. Liberty also offered a summer preparation program where faculty were available to answer any questions students had.
"I couldn't have asked for a better experience," Long said.
About Liberty University
Liberty Universit y, founded in 1971, is the world's premier Christian university, the largest private, nonprofit university in the nation, and the largest university in Virginia. Located near the Blue Ridge Mountains on more than 7,000 acres in Lynchburg, Va., Liberty offers more than 600 unique programs of study from the certificate to the doctoral level. Over 300 programs are offered online. Utilizing its world-class infrastructure and Christian faculty, Liberty's mission is to train Champions for Christ with the values, knowledge, and skills essential for impacting tomorrow's world.