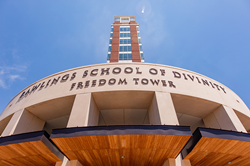 "The ATS leadership is encouraged by the School of Divinity's ability to leverage nontraditional models of education to enhance the student experience," said Dr. Gabriel Etzel. "It is a huge honor to be recognized for being successful and continuing to be on the forefront of innovation."
LYNCHBURG, Va. (PRWEB) February 19, 2020
Liberty University's John W. Rawlings School of Divinity has received accreditation from the Association of Theological Schools (ATS), placing the program among an elite group of over 270 theological member schools in the United States and Canada. The ATS accreditation applies to most of the School of Divinity's graduate programs for a period of seven years, the longest term granted to schools and their programs for initial accreditation.
Dr. Gabriel Etzel, online dean, believes the ATS accreditation comes partly as a result of the School of Divinity's innovative approach to theological education and how the school will contribute to the future of theological education.
"The ATS leadership is encouraged by the School of Divinity's ability to leverage nontraditional models of education to enhance the student experience," he said. "It is a huge honor to be recognized for being successful and continuing to be on the forefront of innovation."
The accreditation, which is recognized by the U.S. Department of Education, provides faculty and students with more opportunities and leverage in terms of producing, publishing, and seeking out research scholarships, said Dr. Mary Lowe, online associate dean. "This new relationship allows us to become more recognized in the field of theological education through scholarship, research, and grant opportunities."
While the John W. Rawlings School of Divinity remains the world's largest school for religious studies and ministerial training, Dr. Troy Temple, interim dean, said the addition of the ATS designation will help attract even more students.
"The ATS accreditation is what most people look for when they are pursuing graduate education in theology and ministry training today. It helps to strengthen our identity on the landscape of theological ministry training."
Etzel said that students in the school's military chaplaincy program, one of the largest in the country, will also have more opportunities as a result of ATS accreditation. "There is a strong preference that chaplains come from ATS schools. The military looks to ATS for standards, and now ATS can say Liberty is a school that produces chaplains."
Ultimately, Temple said, the new designation will help the School of Divinity and its mission of coming alongside the local church in the quest to fulfill the Great Commission.
"ATS' recognition of our mission is significant — this shows they acknowledge it and know that we have not changed our mission of who we are in order to join ATS."
Liberty is accredited by the Southern Association of Colleges and Schools Commission on Colleges (SACSCOC) to award associate, bachelor's, master's, specialist, and doctoral degrees.