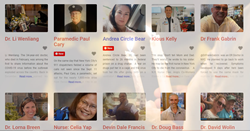 "We serve our neighbor by separating from them, we cannot allow physical separation to become emotional isolation. This requires us to not only be compassionate but creative in our outreach." - George W. Bush Jr
WASHINGTON (PRWEB) May 05, 2020
Globally, more than a quarter million people have died from coronavirus. As the death-toll from COVID-19 approaches 70,000 in the USA, a hidden gem of compassion online hosting over nine thousand tributes to the victims of war and terror founded on September 21st 2001 — LibertyUnites has opened its virtual doors with new features for vigils to victims of coronavirus and saluting the selfless heroes risking their lives to save us.
LibertyUnites.us is an advertising free website without any cost to members that host a vigil for friends or loved ones. LU offers a very user-friendly submission form to add a tribute profile including images with only email registration required. Guest visitors are not required to create an account to light a candle, post prayers, condolences or salute our front-line heroes.
According to John Coates, the website's creator, "Its been LU's goal for over 18 yrs to make it easy to put people's names behind a staggering number of preventable deaths, put faces behind those names, than unite compassion and love from around the world under those faces"
Now that churches are closed, mass burials happen without funerals, grief without loving hugs and no gatherings of friends or family. LU offers a lasting dedicated place for online remembrance of loved ones lost to COVID along side the thousands of 911 victims, and those killed in the war on terror – whose loved-ones also never got to say goodbye.
LU was rebuilt with all these new features after, Coates had to self-isolate from family due to a slight fever and a very inflammatory rash which developed on his chest and shoulders. Unsure if the rash was from yard work, or a trip to the grocery store days before- protecting his family, Coates self-isolated.
Coates stressed, "It was heartbreaking for my 2 year old daughter to cry for me on the other side of a door that I couldn't open. She couldn't understand why daddy couldn't come out. This virus is ruthless in so many ways. One of the biggest is how it keeps those closest to one's heart away as it robs them of their loved ones and air at the same time.
Coates felt there was more that could be done to remember, and pray for the victims that were kept away from their families through it all.
The websites creator got to work on LU's database conversion to support populating all the front-line hospitals in the USA and UK, over 8 thousand of them.
Coates said, "I pushed myself to get LibertyUnites done as fast as I could because I couldn't help that it would cross my mind if I was going to be the first coronavirus vigil on the site or not. Thank God, the swelling under the rash near both shoulders went down a few days later, and the little bumps about 7 days after that."
Coates feels really lucky and thanks God to have just had a scare.
Now it's time for LU live out its purpose. For liberty to unite love, compassion, prayers and condolences from around the world.
We ask for your help at Liberty Unites to light a candle for every COVID 19 victim and salute every front-line hero!
LET US PRAY FOR THE STRENGTH AND KNOWLEDGE TO DEFEAT THE VIRUS!
"... just praying that you pray for me, I'll pray for you, and we have to reach out to support each other during this time because we are going to get through this and we are going to shine brighter than ever, much love, from my heart to yours." – Marla Maples on Instagram
LibertyUnites.us gives a special thank you to our sponsors LightSaver and RF Safe for server resources and scripts needed to make the new LU a reality!