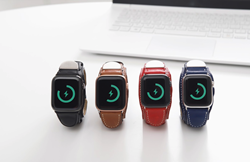 With our patent-pending technology, we've achieved a safe, flexible battery that will change the game for wearables.
SAN FRANCISCO (PRWEB) May 29, 2019
Today, LiBEST launches Artenix Band, the first charging band for Apple Watches on Kickstarter, bringing fashionable, on-the-go power to every Apple Watch user. Using flexible battery technology allows the wearer to continue using their Apple Watch functionality while charging.
Believing that accessories for all tech gadgets shouldn't sacrifice style for function, the Artenix Band offers a premium leather band that discreetly charges the Apple Watch anytime, anywhere, and without charging cables or stands. The company is also offering a non-charging version of the Artenix Band, which provides wearers with the same fashion-forward style whether charging their Apple Watch or not.
"Flexible batteries have attracted attention as a next-generation battery that will take the wearables market to a new level," said Elon Kim, Founder of LiBEST. "With our patent-pending technology, we've achieved a safe, flexible battery that will change the game for wearables."
The Artenix Band is made up of three components: The standard band, which comes in a single tour or double tour variety, a charging band and a connect piece. A short leather band serves as a connect piece to secure the user's watch to the Artenix Band of their choice. Bands come in black, brown, red or blue and are compatible with Apple Watch series 1, 2, 3 and 4.
Providing freedom from night charging, the Artenix Band charges the Apple Watch anywhere, anytime. A stylish power bank for the Apple Watch, the Artenix Band is perfect for those who regularly drain their watch battery and can't connect to a docking station or charger. Packages of Artenix Bands with the charging function are available for pre-order starting at $199. To pre-order, visit pr.go2.fund/Artenix
About LiBEST Inc.
LiBEST Inc. stands for Lithium-ion Battery Energy Science and Technology. LiBEST is setting the standard for powering wearables. LiBEST Inc. is the world's best flexible battery manufacturer, and launched a technological wave by introducing the most advanced flexible batteries designed for wearables. Founded with a vision to revolutionize wearable technology and create a better life, LiBEST has increased areal capacity of batteries while maintaining full-range flexibility. Using advanced technology, LiBEST is ready to power wearables to the next level. For more information, visit http://libest.co/.