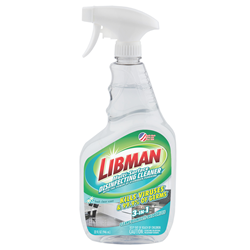 ARCOLA, Ill. (PRWEB) November 23, 2020
The Libman Company, a leading U.S. manufacturer of household and commercial cleaning products, has launched the new Libman Multi-Surface Disinfecting Cleaner with the power of Hydrogen Peroxide that kills viruses* and 99.9% of germs,** including cold and flu viruses.* The disinfectant is a 3-in-1 formula: cleaning, disinfecting, and deodorizing all in one step.
The product works on hard, non-porous surfaces throughout the home, including kitchens and bathrooms, and starts cleaning on contact. Libman has licensed the formula from Innovasource LLC. It is EPA-registered (EPA #: 85837-4-97660) and is featured on the EPA's List N.
Why Hydrogen Peroxide?
Hydrogen peroxide is simply water with an extra atom of oxygen. It works by oxidizing microorganisms and kills 99.9% of germs.** It kills the cold and flu viruses, kills the fungus that causes athlete's foot and controls and prevents the growth of mold and mildew. Hydrogen peroxide breaks down to only water and oxygen and does not leave a harsh chemical residue.
The new Libman Multi-Surface Disinfectant Cleaner is available in two sizes – a 32-oz. spray bottle (MSRP $4.49) and a one-gallon refill bottle (MSRP $10.99) – at major retailers across the U.S. For more information about Libman's line of products or to find the store closest to you, visit http://www.libman.com.
About The Libman Company
The Libman Company is a family-owned company that has been making quality cleaning tools in the United States since 1896. The company manufactures products from brooms and mops to more specialized tools for kitchen and bathroom cleaning and industrial uses. Libman proudly manufactures most of their products in the United States, including the company's well-known Wonder® Mop.
*Kills 99.9% of Influenza A H1N1 Virus and Rhinovirus on hard, nonporous surfaces in 10 minutes.
**Kills 99.9% of E.coli, Salmonella enterica, and Methicillin-resistant Staphylococcus aureus (MRSA) on hard, nonporous surfaces in 10 minutes.