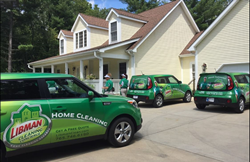 We design a cleaning plan that fits our clients' individual needs and budgets - Andrew Libman, president of The Libman Company
ARCOLA, Ill. (PRWEB) January 14, 2020
The Libman Company, a 124-year old U.S. manufacturer of household and commercial cleaning products, has expanded its Libman Cleaning Concierge residential cleaning service in Indiana to now serve Northeast Indianapolis and Hamilton County. Founded from a century-old trusted household brand, Libman Cleaning Concierge provides superior home-cleaning services at an affordable price, and uses quality, industry-leading Libman cleaning products in the process.
Libman Cleaning Concierge offers an array of cleaning options to meet residents' needs. From a one-time cleaning to weekly, bi-weekly, monthly, special occasion, post construction, and move in/move out occasions, Libman Cleaning Concierge works with clients based on their cleaning needs and budgets. Recurring clients can choose from a focus clean (the same areas specified each time) to a rotational clean (the same specified areas with rotational deep clean added to one area) to a blended clean (different areas each week or every other week, then repeated on schedule).
"We know home-cleaning customers prefer options, affordable prices, and flexibility," said Andrew Libman, president of The Libman Company. "Libman Cleaning Concierge delivers all of those, and more. We design a cleaning plan that fits our clients' individual needs and budgets. At Libman Cleaning Concierge, we're committed to offering the highest level of clean available," said Libman.
The first Libman Cleaning Concierge in Indiana opened in Lafayette. The expansion of services to Northeast Indianapolis and Hamilton County includes the cities of Carmel, Westfield, Fishers and Castleton.
For more information or to submit information for an estimate, visit http://libmanclean.com or call (317) 436-7684.
About The Libman Company
The Libman Company is a family-owned company that has been making quality cleaning tools since 1896. The company manufactures products from brooms and mops to more specialized tools for kitchen and bathroom cleaning and industrial uses. Libman proudly manufactures most of their products in the United States, including the company's well-known Wonder® Mop. For more information about Libman, cleaning tips or to view the product selection, visit - [http://www.libman.com.