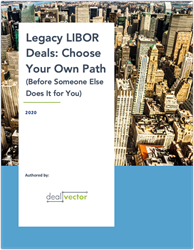 "DealVector continues to be the best resource available for amendments requiring 100% consent. We have passed 8 of the 8 LIBOR fallback language consents we have attempted, and this success is directly attributable to the DealVector network."
SAUSALITO, Calif. (PRWEB) September 29, 2020
DealVector today announced that it achieved a 100% success rate in consent solicitations in August for the insertion of fallback language on eight Nelnet (NNI) trusts representing approximately $2.15B in face value. All of the deals required the unanimous approval from holders of all tranches.
According to Greer McCurley of Nelnet, "DealVector continues to be the best resource available for amendments requiring 100% consent. We have passed 8 of the 8 LIBOR fallback language consents we have attempted, and this success is directly attributable to the DealVector network."
DealVector continues to assist the structured finance industry in LIBOR consents, both through its LiborHub module, an industry-wide clearing house and information center for investors managing their Libor-transition risk, and as the only electronic asset registry and database of custodians actively helping issuers and investors to protect their securities. Recent successful LIBOR and redemption consent efforts include:
NSLT 2006-1 A6
NSLT 2006-1 B
NSLT 2013-4 A
NSLT 2013-4 B
NSLT 2017-2 A
NSLT 2018-5 A
NSLT 2018-5 B
NSLT 2018-3 A2
NSLT 2018-3 A3
NSLT 2018-3 B
NTHEA 2010-1 A2
NTHEA 2010-2 A
KHESL 2013-1 A1
KHESL 2013-2 A1
KHESL 2015-1 A1
KHESL 2010-1 A2
Active consents include:
EdLinc 2012-A B
SLMA 2003-10 A3
"We're currently seeing three types of actions – the insertion of fallback language; redemptions, which typically have a simple majority voting threshold; and investor-led actions where we locate 100% of holders then approach the issuer and request the initiation of a consent," said Dave Jefferds, CEO of DealVector. "Using our technology platform, we've achieved nearly $30B of successful bond finding efforts, with a large percentage of those being amendments that require 100% consent, first in the FFELP ABS market and now in the run up to LIBOR phaseout. From the feedback we are receiving, we expect there are many more on the way. We encourage all investors to register their LIBOR assets for free so they can be alerted of consents in real time."
DealVector is also pleased to announce the release of their new white paper: Legacy LIBOR Deals: Choose Your Own Path (Before Someone Else Does It for You).
About DealVector
The DealVector network connects fixed income professionals directly to authenticated, non-public holders of specific assets quickly and securely for the first time, enabling a more transparent and efficient market. With more than $2T in deal value, 1,300+ firms, and over 780,000 deals loaded on its award-winning platform, DealVector provides an online global asset registry, cashflow model hosting and communications platform for the $100 trillion fixed income market, empowering issuers, investors, advisors and brokers to efficiently address governance and restructuring issues, improve market surveillance, conduct price discovery, and source illiquid assets. For more information, visit http://www.dealvector.com.