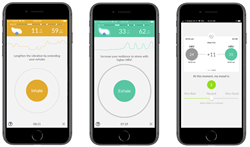 When you don't have another appointment with your therapist or doctor until next week, or you need help calming yourself down in the moment when you're feeling overwhelmed, Lief is there to help you.
SAN FRANCISCO (PRWEB) May 06, 2020
Lief Therapeutics today announced its Downtime™ digital anxiety intervention is available as an adjunct treatment for Generalized Anxiety Disorder during the COVID-19 emergency. The patented digital intervention is delivered through the company's flagship Lief Rx Smart Patch, a wearable ECG device now covered under most insurance plans. For the duration of the COVID-19 emergency, physicians can prescribe Downtime™ to help patients manage symptoms of anxiety in conjunction with their primary treatment plan.
Lief's digital prescriptions are designed to improve heart rate variability (HRV), the gold standard biomarker for mental health. A meta-analysis of 2,086 anxiety patients found that low HRV is associated with anxiety disorders, including generalized anxiety disorder, social anxiety, PTSD, and panic. Lief's core offering, HRV biofeedback training, has been shown to significantly decrease stress and anxiety.
In clinical trials, 88% of Lief study participants reported significantly reduced anxiety over the course of eight weeks, as measured by standardized psychometric assessment. Participants were also able to significantly increase their HRV by approximately 50% in 3 minute exercises with the device.
Dr. Ty Canning, a clinical psychologist in the Bay Area shares, "Lief is a cutting edge resource to battle anxiety in the moment. Without it, patients are left relying on medications that, while initially helpful, become ineffective over time. With Lief there is no risk for dependence and no build-up of tolerance, only the increase of ability to self-regulate."
The Lief Rx Smart Patch can be worn discreetly throughout the day to help patients track their HRV and train it higher through personalized biofeedback exercises. Healthcare providers can use Lief's free Clinician Dashboard to remotely enroll eligible patients in the Lief program, monitor their biomarker and self-report data, and send secure chat and video messages through the connected mobile app.
Lief's fully remote program helps providers treat patients' anxiety and communicate outside the office, thereby supporting nationwide social distancing measures. By enabling patients to reduce their anxiety through empowering biofeedback exercises and support from a remote behavioral health specialist, Lief extends the capabilities of care teams and helps ease the burden on health care facilities and providers.
Highlighting the growing need for remote mental health technologies like Lief in light of ongoing social isolation during COVID-19, the FDA noted in their updated policy guidance,"The use of digital health technologies, including software as a medical device or other digital therapeutics solutions, may improve mental health and well-being of patients with psychiatric conditions during periods of shelter-in-place, isolation, and quarantine."
As a result of the updated policy guidance, patients can utilize Lief to further reduce their anxiety as a complement to talk therapy, their medication regimen, or another primary therapy as determined by their physician. The wearability and continuous monitoring capabilities of Lief offer a valuable tool for those in need of mental health support on a regular basis. Whether utilized in between appointments with their doctor as a routine well-being practice, or in response to acutely stressful events, Lief offers a flexible adjunct treatment option for those suffering from generalized anxiety disorder, who need more support during this challenging time.
Rohan Dixit, CEO & Founder of Lief shares, "Lief is designed to help people who need daily mental health support, which is particularly relevant during the current crisis when people are feeling stressed or worried every day. When you don't have another appointment with your therapist or doctor until next week, or you need help calming yourself down in the moment when you're feeling overwhelmed, Lief is there to help you."
Lief Therapeutics is currently offering 10% off new users' first month's subscription to its direct to consumer telemedicine services with code NEWYEARSLIEF10.
About Lief Therapeutics
Lief Therapeutics offers biofeedback wearables for mental health to consumers and patients, access to telepsychiatrists, and a remote patient monitoring platform for healthcare providers. Lief Rx, Lief's prescription-only device for patients, can be used as an adjunct treatment for generalized anxiety disorder after consultation with a physician. For more information, visit http://www.getlief.com.
SOURCE: Lief Therapeutics