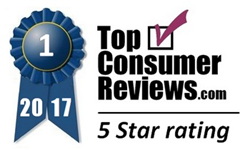 For more than a decade, EFinancial has been connecting people with life insurance policies that are appropriate and affordable.
Overland Park (PRWEB) August 08, 2017
TopConsumerReviews.com recently awarded their highest five-star rating to EFinancial, a leader in the Life Insurance industry.
When it comes to insurance, most people think of policies that cover their car or their home. Unfortunately, many overlook one type that could make a significant difference in the event of the death of a loved one: life insurance. The good news is that premiums are much more affordable now than ever, allowing people to get coverage to help their families if they should pass away unexpectedly. And, shopping for life insurance has become much easier now that policies can be compared and purchased from the privacy of one's own home, with just a few clicks of the mouse.
"For more than a decade, EFinancial has been connecting people with life insurance policies that are appropriate and affordable," according to Brian Dolezal, of TopConsumerReviews.com, LLC. "All it takes to get quotes from at least four top-rated life insurance companies is a quick visit to their website. After entering your personal information and answering a few basic medical questions, you'll be on your way. And, if you're feeling unsure as to what kind of life insurance policy would be best for your situation or have any other questions, you'll find plenty of helpful information on the EFinancial website as well - no quote required. For 2017, EFinancial is our highest-ranked source of life insurance policy quotes."
To find out more about EFinancial and other life insurance providers, including reviews and comparison rankings, please visit the Life Insurance category of TopConsumerReviews.com at http://www.topconsumerreviews.com/life-insurance/.
About EFinancial
EFinancial was founded to provide insurance consumers quick, easy access to their life insurance policy. Back in 2001, Founder and CEO Michael Rowell thought that Life Insurance could be sold over the internet/phone rather than at the dinner table with your local insurance salesman. This way customers would have the ability to shop and compare well-known companies and choose the company that best fits them. As EFinancial and a few other companies have proved, online life insurance can save time and money.
About TopConsumerReviews.com
TopConsumerReviews.com, LLC is a leading provider of independent reviews and rankings of hundreds of consumer products and services. From Life Insurance to Home Gyms and Travel Insurance, TopConsumerReviews.com delivers in-depth product evaluations in order to make purchasing decisions easier.