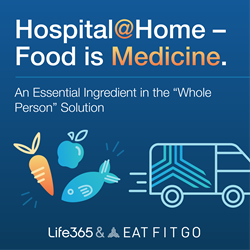 SCOTTSDALE, Ariz. (PRWEB) April 06, 2021
Life365, a leading virtual care platform provider, announced its partnership with EAT FIT GO Wellness, a healthy lifestyles company that empowers wellbeing from the inside out with premium, convenient and healthy nutrition. EAT FIT GO specializes in ready to heat and serve healthy prepackaged meals designed to be affordable, convenient and nutritious.
Life365 continues to build out its Virtual Care, tech-enabled healthcare platform, intended to provide a simpler solution for insurance companies, health systems (Hospital@Home), payers, senior aging services, wellness programs, clinical trials and large self-insured employers. The platform is designed to provide variety of solutions that are personalized for an individual coming from a commonly integrated platform to provide a "Whole Person Solution" and not delivering one-off individual products. Consumers and providers of solutions / services are becoming fatigued by the disparate nature of products and services that come to market in Healthcare and Wellness, causing lack of scalability due to having to handle 100's of individual products, instead of bundling together in a "Personalized" manner to meet an individual's needs.
The addition of EAT FIT GO to the Life365 Virtual Care Platform is now in good company not only offering a nutritious food component, while satisfying the Hospital@Home program requirements, but a variety of additional services targeted towards the need of healthcare, seniors / retirees, employees with chronic conditions, people with disabilities and social determinants of health (SDOH). EAT FIT GO's convenient, premium meals can be delivered to home or office and are designed to share the platform with other companion products such as Home Safety and Care, Remote Patient Monitoring, Telehealth, Wellness, Transportation, Behavioral Health and much more – All from the Life365 Virtual Care app.
"Food is medicine," said Brock Hubert, CEO of EAT FIT GO Wellness. When Life365 and EAT FIT GO aligned it was an instant connection that our two companies had the ability to address both sides of the care continuum, with one side being Health & Wellness and the other side being Complex Chronic Care. We needed to meet in the middle where a vast amount of people have amassed. Coming from the Health and Wellness side, we needed to provide the tools, including food, that helps individuals self-managed their weight and provide them the ability to stop or reduce the chances of progressing into a chronic disease such as diabetes, high blood pressure and more. From the complex chronic care side, we needed to intervene prior to an individual getting sicker to stop the progression of their chronic disease to a more costly state."
"Our clients are convinced that the right targeted tools can help their members in their individual wellness and care, providing greater outcomes with significant ROI", said Kent Dicks, CEO of Life365. "The problem is that many of these solutions, 10's if not 100's, are presented individually to the member and are not aligned, integrated or delivered in a unified offering, which makes it harder to deploy to the members in a targeted and personalized manner. The Center for Medicare and Medicaid Services (CMS) has started a new "Hospital@Home" initiative which allows health systems / providers to be reimbursed for care at home, but they must provide comparable services that they would receive in the hospital, such as food, transportation, remote patient monitoring, etc. This partnership with EAT FIT GO is perfect since it continues our mission to provide a "Whole Person Solution" targeted towards Healthcare and Wellness and ready-made healthy home delivered food was a missing component."
Nutritious, premium food delivered directly to a patient's home is one of the key ingredients to a successful preparation for surgery or speedy recovery at home, stopping the complications related to food insecurity or lack of nutritious food at home, causing a re-admission to the hospital. Many programs exist in Medicaid, Medicare, Medicare Advantage and commercial pay that support food as an active ingredient in the success care of the member pre and post hospitalization and throughout their wellness journey.
About Life365
The Life365 Virtual Care platform integrates health systems with healthcare solution/service providers and logistics companies to deliver a one-stop, integrated platform for engaging a growing patient population at home – and beyond. The platform enables health professionals to remotely manage patients with a variety of disease states and offers consumer apps for self-managing their health and wellness. Life365 is headed by an experienced, industry recognized team, recently selected as a Finalist for a 2021 Edison Award for their work in addressing COVID-19. The team's previous "Connected Health" Company was acquired by Alere (now Abbott). Life365 is the major patent holder of the next generation of Wearables, Sensors and Patches driven by Machine Learning / AI, driving the next generation of Remote Patient Monitoring to scale.
For more information regarding Life365, please visit http://www.life365.health.
About EAT FIT GO
EAT FIT GO's mission is to empower people to live healthier lives by enabling convenient access to premium, restaurant-quality meals made from fresh and healthy whole foods.
EAT FIT GO provides a simple solution to eating healthy on the go. All ingredients are listed right on the label, so you know exactly what you're eating. EAT FIT GO meals are freshly prepared in a USDA certified kitchen and distributed directly to customers doorstep in temperature-controlled environments. EAT FIT GO offers breakfast, lunch, and dinner choices in a variety of protein options from vegan / vegetarian meals to chicken, steak and turkey. America is becoming more and more dependent on processed foods that are causing numerous health problems across the board. This issue continues to trend in the wrong direction decade after decade. EAT FIT GO's model of real food with no preservatives or added artificial ingredients will help create more options for people to take control of their own health and well-being and help provide better outcomes – Healthy Food is Medicine.
For more information regarding EAT FIT GO, please visit http://www.eatfitgo.com