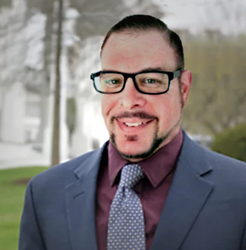 After an injury, it's common to reach a point where you feel physically able to and want to reenter the workforce. I'm happy to team up with the Reeve Foundation to provide knowledge regarding the different possibilities for a smooth transition back to work. - Mike Sanders, Director of Marketing
BOSTON (PRWEB) February 21, 2019
For most newly injured individuals, returning to work after a life-changing event is intimidating. While returning to work is a common goal throughout rehabilitation, the logistics can be difficult. However, there are steps an individual can take to prepare for the transition back into the workplace.
Returning to work can be one indicator of successful rehabilitation following an injury, and the employment rate for people with disabilities is steadily rising. Buildings are more accessible, and employers are aware that people with disabilities deserve equal opportunities. Many employers recognize the benefits of a diverse workforce and the unique skills and views employees with disabilities can provide. However, after injury, many people are worried about returning to work for fear of losing disability benefits. Another common concern is asking for and receiving appropriate accommodations. When choosing to return to work, having a plan in place is crucial to a successful outcome. To help with the transition, the Reeve Foundation has teamed up with NTI's Director of Marketing, Mike Sanders, to discuss successfully navigating the path back into the workplace after an injury.
NTI has helped Americans with disabilities find jobs since 1995, and Sanders is familiar with the challenges individuals with disabilities face. "After an injury, it's common to reach a point where you feel physically able to and want to reenter the workforce. I'm happy to team up with the Reeve Foundation to provide knowledge regarding the different possibilities for a smooth transition back to work."
To help guide those transitioning back after injury, the Reeve Foundation is providing a free one-hour webinar on February 26 to address common concerns such as: where to find support; how to get up to date training and skills; and how to use vocational rehabilitation services to obtain and keep a job while living with a spinal cord injury.
The session will be presented by Mike Sanders, the Director of Marketing and Communications for NTI. NTI is a 501(c)(3) non-profit focused on placing Americans with disabilities and disabled Veterans in work-at-home jobs within call centers, customer service, and IT help desk positions. With over 20 years of experience in training, advocacy and marketing strategy, along with his Master of Science in Industrial/Organizational Psychology, Sanders has helped build NTI into the leader in placing Americans with disabilities in the workplace.
This webinar will be hosted from 12-1 p.m. EST. Registry for the webinar on "Transitioning Success: Reentering the Workforce After Disability" can be found on the Reeve Foundation's events page at http://www.snip.ly/ReeveFoundationWebinar.
About NTI: National Telecommuting Institute. Inc (NTI) is a 501 (c)(3) (http://www.nticentral.org) non-profit organization with headquarters in Boston, MA. It has been supporting Americans with disabilities since 1995. NTI provides training and job services in work at home positions across the United States through their NTI@Home (http://www.ntiathome.org) and LandAjob.org (http://www.landajob.org) programs. NTI pioneered staffing virtual call centers with Americans with Disabilities, including Disabled Veterans, who work from home.
About Reeve Foundation: The Christopher & Dana Reeve Foundation (http://www.ChristopherReeve.org ) is dedicated to curing spinal cord injury by funding innovative research and improving the quality of life for people living with paralysis through grants, information and advocacy. The Paralysis Resource Center (PRC) is a program of the Reeve Foundation, and is funded through a cooperative agreement with the Administration for Community Living, part of the U.S. Department of Health and Human Services (cooperative agreement number 90PRRC0002-01-00).
Media contacts:
Mike Sanders, Director of Marketing at NTI, 857-772-7614, marketing(at)nticentral(dot)org