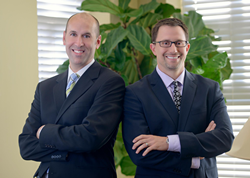 In America today, almost half the adult population has at least one missing tooth.
CHARLOTTE, N.C. (PRWEB) June 10, 2020
Restorative dentists, Drs. Steven White and Brad Haines of White and Haines Advanced Dentistry, welcome new and existing patients in the Charlotte, NC area to receive dental implants at their modern facility. This team regularly sees and treats patients with single or multiple missing teeth. When appropriate, the dentists frequently recommend replacing their lost, damaged or decayed teeth with permanent and natural-looking dental implants.
In America today, almost half the adult population has at least one missing tooth. When a single tooth falls out or is extracted, it leaves a gap in the smile. This gap can lead to the shifting of adjacent teeth as well as difficulty eating and speaking. On a less obvious level, the gap presents problems below the gum line. Without a tooth to stimulate healthy bone growth, the jawbone will begin to reabsorb leading to lowered bone density and a sunken-in and older appearance around the jaw and cheeks.
Dental implants provide a permanent solution for those affected by missing teeth. Using modern equipment including the PaX-i3D cone beam CT system for panoramic x-rays and 3D scans normally only provided in a hospital, Drs. White and Haines can precisely plan the position to surgically place each implant. The foundation of the implant, the implant post, is then placed in the jawbone for maximum long-term stability. In many cases, this team is able to attach a temporary crown on the same day so patients can leave with a complete and functional smile. After a few months, a final, lifelike restoration is placed to create a seamless smile that matches the unique facial aesthetics and personality of each patient.
As one of their patients who will be receiving dental implants soon has noted, "I came in and had the 3D scan done. I'm really excited about this technology, not only because it's far more comfortable as a patient, but it's going to enable Dr. White to precisely position the implants. At White and Haines Dentistry, they do everything within their power to make the patient extremely comfortable."
Those with missing teeth in Charlotte, NC interested in making an appointment with Drs. White and Haines are invited to call their Cornelius, NC practice at 704-896-9535.
About the Dentists
White and Haines Advanced Dentistry is a general dental practice offering personalized dental care to patients in Cornelius, NC. Dr. Steven White offers more than 20 years of experience in general and cosmetic dentistry. He has served as a mentor at the Nash Institute for Dental Learning as well as an instructor with the Advanced Aesthetics Program. Dr. Brad Haines was named a Top 40 Dentist Under 40 in Incisal Edge Magazine and brings more than a decade of experience in general and cosmetic dentistry. Drs. White and Haines strive to understand each patient's unique set of goals to help them reach a healthy smile and they are members of the American Dental Association, Dental Organization for Conscious Sedation and Charlotte Dental Society, among many others. To learn more about Drs. White and Haines or the services they offer at their practice, please visit their website at http://www.drswhiteandhaines.com or call 704-896-9535 to schedule an appointment.