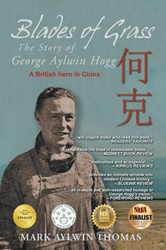 HELSINKI (PRWEB) October 10, 2019
A story of heroism, risk, sacrifice, dedication and bravery is present in "Blades of Grass" (published by AuthorHouse UK) by Mark Aylwin Thomas.
The story approaches that of an autobiography due to the large portion of text comprised from George Aylwin Hogg's own writing through letters. George Aylwin Hogg was a British journalist and educator who became a national hero for his war-time actions. Thomas delved into his uncle's life story when he was cast in a six-part mini-series for Chinese television. Due to the story's "profound significance" in modern Chinese history, the book will be translated and republished in China.
An excerpt from the book reads:
News Chronicle appeal, 14 September, 1945:
Six courageous young men are needed at once to go to China to work for the Chinese Industrial Cooperatives. They are to take the place of one who did the work of six - George Hogg, brilliant thirty-year-old Oxford graduate who died recently of tetanus at Shandan in northwest China, one thousand five hundred miles from Chongqing, and beyond the reach of medical aid.
"Blades of Grass" is available for purchase at: http://bookstore.authorhouse.com/Products/SKU-001119251/Blades-of-Grass.aspx.
"Blades of Grass"
By Mark Aylwin Thomas
Hardcover | 6 x 9in | 502 pages | ISBN 9781524676971
Softcover | 6 x 9in | 502 pages | ISBN 9781524676964
E-Book | 502 pages | ISBN 9781524676988
Available at Amazon and Barnes & Noble
About the Author
Mark Aylwin Thomas, born a few months after his uncle's death, was raised in England and has lived in Finland since 1974. He shares the same middle name as his uncle, whom Thomas became fascinated with after attending a 1988 memorial event in China. He serves as the guardian of his uncle's papers and legacy. In 2017 these archives were accepted by the Bodleian Library where they are now preserved for posterity and wider access for researchers. More information is available on Thomas' website under his uncle's name: http://www.georgeaylwinhogg.com.