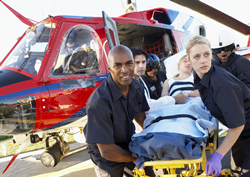 There is an urgent need to simplify medical flights; whether it is to transport the organ or the surgeon. There has to be an easier and more expeditious way of booking an organ flight.
LAKEWOOD, N.J. (PRWEB) November 24, 2020
It goes without saying that time is of the essence when it comes to organ transplants as an organ can live for only so long once outside the human body. For example, kidneys, the most commonly transplanted organ, can last between 24 and 36 hours—livers last 12-15 hours. On the other side of the spectrum, a heart only lasts between 4 and 6 hours; the same for lungs.(1) When time is at a premium, you cannot waste it trying to procure an air ambulance or organ transplant flight. "There is an urgent need to simplify medical flights; whether it is to transport the organ or the surgeon. There has to be an easier and more expeditious way of booking an organ flight," said Sim Shain, CEO and Founder of ParaFlight EMS and Aviation, and OrganFlights.com.
Facts About Organ Transplantation

Once the organ is removed from the body, it must be preserved quickly. The organ is placed in special solutions and packed in ice. (2)
There were 39,718 transplants—from living and deceased donors—performed in 2019 in the United States.(3)
All organs to be used for a transplant are accompanied by a certified courier, sometimes by a surgeon (procurement team) and all are tracked by a monitoring device. (2)
Currently, to procure such a flight, the hospital or medical center, in conjunction with the organ transplant organization, reaches out to companies that fly organs to see which one is available. Precious moments are wasted attempting to acquire the flight. And even though these organizations function 24 hours a day 7 days a week, the problem is exacerbated after hours, weekends and holidays when much of the transplant activity occurs.
"There are 2 industries involved, the hospital or transplant center and the air transport company. They must communicate with each other via phone or email. So many things could go wrong… for example, there are no available pilots, or there won't be a flight ready until the morning," said Shain. "We need to be able to talk with operators in real time."
What is needed, explains Shain, is a network that can organize everything from one central hub. A network that can find the aircraft, arrange for ground medical transport when the flight arrives, and take care of the details quickly and efficiently. The most important factor, says Shain, is to simplify the process. To that end, Shain has created, and continues to increase, a database of dozens of vetted and qualified operators nationwide who are generally able to launch within 2 hours.
"We have created an app that gathers all the data and sends it to our dispatch system. The hospital, OPO or transplant center that needs an organ flight goes to the app, enters the information and we take it from there," Shain explained. From there, our dispatch center sends out the flight request via the app and the operators have the ability to book the trip via their PC and smart phones as it operates on both the Android and Apple IOS platforms. Generally, hospitals have one place that they call—OrganFlights.com and the eponymous app gives them more choices.
"The dispatch system has the ability to communicate with the medical teams in real time, thus keeping them informed on all aspects of the flight; for example, time of arrival, visualize/accept, cross-clamp, flight tracking and so forth," added Shain.
OrganFlights.com can arrange transport to go to another state , pick up the organ and take it to where it's going to be transplanted, when a procurement team is not needed. That way, the medical center saves precious time at a moment where every minute counts. If you have a patient in Florida that needs a liver, but the liver is in New Jersey, OrganFlights.com uses their database of operators to fly the organ back. Precious minutes that would have otherwise been spent on transport can, instead, be used to focus on the patient's care.
"With our dispatch center and with our app, we have expanded the reach of availability for medical centers. We are happy to serve as a backup provider as well. A hospital might currently have an aircraft operator that services them, but if they ever run into an issue where they don't have a plane available, they can reach out to us and we'll help them get a plane or a helicopter or whatever else they may need," said Shain.
About Organ Flights and ParaFlight EMS and Aviation
Sim Shain, Founder and CEO of ParaFlight EMS and Aviation and Organ Flights, has led a remarkable 27-year career working in the pre-hospital emergency medical space. He is a noteworthy leader who takes on challenging responsibilities leading corporate, medical, and charity flights and missions specializing in organ transplants. Sim is a devoted volunteer who contributes towards numerous well-known organizations such as Chai Lifeline's Camp Simcha, United Hatzalah of Israel, The Special Children's Center, Birthright Israel, and providing Hatzolah EMS, in-flight medical support to children with cancer and disabilities, free of charge. ParaFlight EMS and Aviation and OrganFlights.com personify his lifelong mission of "changing the world, one organ at a time." For more, visit http://www.paraflight.aero and http://www.organflights.com.
1. Lanesse, Nicoletta, "How Long Can Organs Stay Outside the Body Before Being Transplanted?" | 28 December 2019; Live Science; livescience.com/how-long-can-donated-organs-last-before-transplant.html
2. Donor Alliance; "How Are Organs and Tissues Transported for Transplant?" | 23 June 2020; donoralliance.org/newsroom/donation-essentials/howorgansaretransportedfortransplant/
3. United Network for Organ Sharing; "Organ Donation Again Sets Record in 2019"; 9 JAN 2020; https://unos.org/news/organ-donation-sets-record-in-2019/.