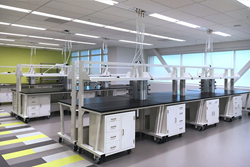 "We are excited to be ranked on the Inc. 5000 list. As a fellow scientist, I'm particularly proud of the contributions we've made to the industry with products that adapt to the changing needs within the laboratory space." -Joe Matta, Scientist and Hanson Lab Solutions CEO
CAMARILLO, Calif. (PRWEB) August 17, 2020
Hanson Lab Solutions, the largest direct manufacturer of lab casework and fume hoods in the western region, enters the ranks of the nation's fastest-growing private companies with a spot on the Inc. 5000. This list is one of the most prestigious ranking systems of the nation's fastest-growing private companies. Well-known veterans of the list include Intuit, Zappos, Under Armor, Microsoft, and Patagonia, to name a few.
California's booming life science industry continues to drive demand for laboratory casework. This demand comes from a variety of sectors including the research and development of groundbreaking therapies to treat serious illnesses from cancer to heart disease and now COVID-19. Cannabis-related products as well as the development of sustainable materials, smarter agriculture, and cleaner chemicals are also at the forefront of the latest innovations.
To address this demand for laboratory casework, Hanson Lab Solutions expanded into a new facility in Camarillo in 2018. At roughly 100,000 square feet, it has one of the largest steel lab casework fabrication capacities in the country. Hanson Lab Solution's domestic manufacturing abilities and use of local vendors form a manufacturing network with over 300,000 square feet of manufacturing floor space. The size of the network and long-standing relationships protect against the project delays that so many companies have experienced due to the impact of COVID-19.
With over 20,000 labs built, Hanson Lab Solutions is the only direct and vertically integrated lab casework and fume hood manufacturer in the western United States that offers in-house manufacturing, planning, design assistance, and installation.
For more information, contact: Erika Mellema, erika@hansonlab.com, 805-498-3121