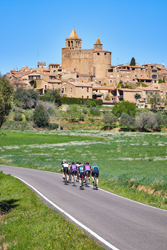 PORTLAND, Ore. (PRWEB) October 17, 2019
LifeCycle Adventures (https://www.lifecycleadventures.com), a leading cycling vacation company specializing in customized private cycling vacations, is continuing its expansion to include Catalonia, Spain in 2020. The company is currently accepting bookings for all 2020 destinations.
"Our slow and steady expansion strategy is paying off," said Tony Blakey, LifeCycle Adventures founder. "We continue to distinguish ourselves by offering truly customized trips to our guests. Our trips are run and managed by locals, enabling a far more 'local' experience that what the competition typically offers. We work hard on authenticity and our guests love it."
CATALONIA BIKE TOURS
With its sunny climate and stunning landscapes, Catalonia offers some of the best cycling in the world. The quiet, bike-friendly roads meander past medieval villages, through forests and along the coast. The backdrops include rugged mountains, rolling farmland, and the sparkling Mediterranean. Catalan cooking is rightly celebrated; Catalonia boasts 54 restaurants with one or more Michelin stars. Catalan culture is also rich; Catalonia is the birthplace of Dalí, Gaudí and Miró. Our tours start just an hour north of Barcelona – a great destination in its own right.
LifeCycle Adventures crafts custom daily routes and provides a choice of lodging as well as making recommendations for and organizing off-bicycle activities.
THE LIFECYCLE ADVENTURES DIFFERENCE
LifeCycle Adventures was founded in 2004 to provide personalized bike tours in California's Napa and Sonoma counties primarily for couples and small groups. Since 2010, the company has expanded rapidly and now offers tours in Oregon's Willamette Valley and Columbia River Gorge, Hawaii's Big Island, Washington's San Juan Islands, Canada's Vancouver Island, Italy's Puglia and Tuscany regions, France's Provence and Pyrenees regions, Spain's Catalonia region Ireland's Southwest Coastal region, and Holland.
Unlike most bicycle-vacation companies that require guests to join a large group on a pre-scheduled tour, LifeCycle Adventures creates custom itineraries for each private small party or private group of any size, with an industry-leading focus on a high level of personalized service both before and during trips. The company's on-the-ground local staff develops daily route maps, arranges lodging, provides on-demand van support and/or guiding as required, transports luggage and provides bicycles – and, most importantly, helps guests find those "hidden gems" that only locals know about.
ABOUT LIFECYCLE ADVENTURES
LifeCycle Adventures is an owner-operated bicycle tour company based in Portland, OR that offers cyclists some of the most personalized and well-supported tours in the industry. The company is meeting a growing demand from travelers for tailor-made vacations; combining high-touch service previously only found on group tours with the flexibility of private individual travel. Visit LifeCycle Adventures on the Web at https://www.lifecycleadventures.com, email info@lifecycleadventures.com or call 888-NOW-BIKE/888-669-2453 (from outside the U.S. call +1 415 366 3806).
Media Contact: Pierre Campana-Jourda, LifeCycle Adventures, 415.366.3806, info@lifecycleadventures.com