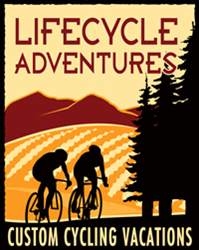 LifeCycle Adventures continues to distinguish itself by offering truly custom private trips to its guests, something that most of our competitors are unable to deliver. Cycling enthusiasts have taken notice."
PORTLAND, Ore. (PRWEB) March 03, 2019
LifeCycle Adventures (http://www.lifecycleadventures.com), a leading cycling vacation company specializing in customized private cycling vacations, is continuing its expansion to include Holland and Vancouver Island, Canada in 2019.
"We are privileged to continue our international expansion efforts based on strong new guest demand as well as a very loyal base of repeat guests," said Tony Blakey, LifeCycle Adventures founder. "LifeCycle Adventures continues to distinguish itself by offering truly custom private trips to its guests, something that most of our competitors are unable to deliver. Cycling enthusiasts have taken notice."
HOLLAND BIKE TOURS
In Holland, the bicycle reigns supreme with over 20,000 miles of dedicated cycling lanes separated from automotive traffic. Our flexible-length bike tours provide days of cycling across miles of flat green countryside crisscrossed by a complex network of canals, dikes, and land reclaimed from the sea. Tulips fields are in full bloom in season while historic windmills stand guard year-round. Dutch villages and towns are characterized by 16th-century architecture, museums, and local culinary specialties. The history and culture is rich with postcard perfect scenes. LifeCycle Adventures craft custom daily routes and provide a choice of lodging as well as recommend and organize off-bicycle activities. https://www.lifecycleadventures.com/holland-bike-tours/
VANCOUVER ISLAND BIKE TOURS
Following the exploration of the San Juan Islands in Washington State, LifeCycle Adventures now provides an opportunity to prolong an island cycling vacation by hopping on a ferry to Canada's Vancouver Island with a local guide. Start off in Victoria with its unique old world heritage, culture, and stunning harbor. Just outside of town, views of the Olympic peninsula will frame a cyclist's ride as they make their way towards the world-reknown Buchart Gardens. Off-bicycle activities abound such as whale watching, kayaking, and hiking. https://www.lifecycleadventures.com/san-juan-bike-vancouver-victoria-tours/
THE LIFECYCLE ADVENTURES DIFFERENCE
LifeCycle Adventures was founded in 2004 to provide personalized bike tours in California's Napa and Sonoma counties primarily for couples and small groups. Since 2010, the company has expanded rapidly and now offers tours in Oregon's Willamette Valley and Columbia River Gorge, Hawaii's Big Island, Washington's San Juan Islands, Canada's Vancouver Island, Italy's Puglia and Tuscany regions, France's Provence and Pyrenees regions, Ireland, and Holland.
Unlike most bicycle-vacation companies that require guests to join a large group on a pre-scheduled tour, LifeCycle Adventures creates custom itineraries for each private small party or private group, with an industry-leading focus on a high level of personalized service both before and during trips. The company's on-the-ground local staff develops daily route maps, arranges lodging, provides on-demand van support and/or guiding as required, transports luggage and provides bicycles – and, most importantly, helps guests find those "hidden gems" that only locals know about.
Pricing varies depending on accommodation choices and length of stay, but commonly ranges from $1,000 to $3,000 per person. Guests can book a tour by calling 1.888.NOW.BIKE in the U.S. (0800-587-8663 in the U.K.) or visiting LifeCycle Adventures on the Web at https://www.lifecycleadventures.com.
ABOUT LIFECYCLE ADVENTURES
LifeCycle Adventures is an owner-operated bicycle tour company based in Portland, OR that offers cyclists some of the most personalized and well-supported tours in the industry. The company is meeting a growing demand from travelers for tailor-made vacations; combining high-touch service previously only found on group tours with the flexibility of private individual travel. Visit LifeCycle Adventures on the Web at https://www.lifecycleadventures.com.