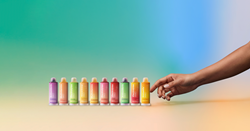 "Our new Pod Pack offerings were created as a solution to deliver purposeful nutrient and flavor offerings based on specific usage occasions, and provide even more options that fit each person's lifestyle, taste, and needs."
RESTON, Va. (PRWEB) July 07, 2020
LifeFuels, the creator of the world's first smart nutrition bottle, announced today the launch of new Pod Pack offerings specifically designed to power people's performance and personal health amidst a larger brand refresh. The launch introduces Daily Pods, Boost Pods and hand curated Performance Pod Packs, as well as an official roll out of Pods under the performance, wellness and beauty-focused verticals. All of which are designed to compliment a user's personal health goals as they track hydration, nutrition, and receive actionable insights to personalize their LifeFuels experience in the App.
"Our priority will always be our consumers, and we're constantly innovating through the lens of delivering hydration solutions and functional benefits that help achieve peak performance, from daily hydration to pre and post workout," said LifeFuels CEO and Founder Jonathon Perrelli. "Our new Pod Pack offerings were created as a solution to deliver purposeful nutrient and flavor offerings based on specific usage occasions, and provide even more options that fit each person's lifestyle, taste, and needs."
Daily Pods are a go-to beverage packed with nutrients and flavors that can be enjoyed throughout the day. Boost Pods are formulated with ingredients that are game changers in the hydration routine and focus on achieving goals, from boosted workout performance, to wellness or beauty.
Performance Packs include a combination of Daily Pods and Boost Pods that are hand selected by in-house beverage experts to power performance during specific usage occasions. Performance Packs range from Workout Packs to Defend Packs, to further fuel customization and personalization. The full line of Performance Packs initially includes Workout, Energize, and Defend, with more to follow in the coming weeks.
Specific Pod offerings will launch throughout 2020 and focus on delivering wellness, performance and beauty functional benefits. The roll out will include pre-workout, high energy, stress relief, collagen and skin health Pods, among others. Each Pod is carefully formulated to deliver personalized shots of energy, electrolytes, and supplements into water, and can be mixed with other Pods via the app to deliver flavor, nutrients and fuel hydration on game day and everyday.
The larger brand refresh also includes the introduction of new Pod labels and an updated website experience, as well as digital social ads. To learn more please visit lifefuels.com.
About LifeFuels
LifeFuels is the creator of the world's first smart nutrition bottle. Founded by Jonathon Perrelli and Rob Lawson-Shanks, the beverage technology company was created with a simple mission: to help people feel their best from the inside out. LifeFuels integrates three components – the Bottle, Pods, and the LifeFuels App – to turn ordinary water into a beverage packed with flavor, essential vitamins, and nutrients. LifeFuels bridges the gap between hydration, nutrition, technology, and sustainability, and is redesigning the way people drink enhanced water—forever. Join the conversation and connect with LifeFuels at @lifefuels on Facebook, Instagram, Twitter, YouTube and TikTok.