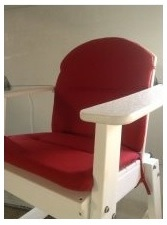 Comfortable, safe and is able to fit in most lifeguard chairs
Los Angeles, CA (PRWEB) December 02, 2014
Imagine sitting in a chair for hours on end, watching people at a beach or pool and starting to think about how uncomfortable a chair is. This is something that happens to many lifeguards who have to sit in uncomfortable chairs. When this kind of distraction happens, the lifeguard is more focused on wishing they could get up and walk around in order to get out of the chair for a little bit, rather than focusing on the public they serve. Now Lifeguard Master, the popular lifeguard supply company, is offering lifeguard chair seat cushions and back cushions.
Lifeguard Master offers the lifeguard chair seat cushion and also the lifeguard chair back cushion. These can be purchased both separately or in a set. These cushions fit most lifeguard chairs on the market and come in a bright red color. The cushions are durable and firmly secure onto the lifeguard chair. No matter the height of the chair, these cushions fit a majority of lifeguard chairs on the market and allow for extreme comfort for the lifeguard so they can limit distractions to benefit the people of the swimming area.
Since a lifeguard can spend hour after hour in a chair watching people in the pool or on the beach, it is important that distractions are minimal for the safety of everyone around. Since a lifeguard's duty is to focus on people, having a cushion to add a little comfort can potentially be lifesaving for those in the swimming area. Even the most comfortable chairs can make someone sore after a while, which is why a small investment in chair cushions can benefit the lifeguard and the public they serve.
Along with chair cushions, Lifeguard Master also offers a variety of lifeguard chairs. The three most popular chairs include the 30-inch chair, the 40-inch lifeguard stand, and the 66-inch tower. With different size chairs suggested for different pools or swimming area sizes, these popular lifeguard chairs have many features in common. For larger pools, beaches or lakes, the 66 inch lifeguard tower will fit it's needs. For swimming pools that will handle 20 or less swimmers at one time, the 40 inch lifeguard stand will fit it's needs. For swimming pools that will handle 10 or less swimmers at one time, the 30 inch lifeguard chair will fit it's needs. To view a video of one of these chairs, please click on: The 40 inch lifeguard stand
These three popular chairs by Lifeguard Master are maintenance free, meaning that they never peels or never chip. They never need painting and they never rust. With no slip steps, these chairs are made with comfort in mind for an alert and attentive lifeguard. The durable chairs are made of a poly material and stainless hardware that withstand harsh ocean elements for a long lasting and effective tool. These lifeguard chairs also come with an umbrella holder along with a hook for ring buoys and accessories. Whether a pool or beach has an swimming population of 10 people to 100 people, Lifeguard Master has chairs and towers to accommodate different size swimming areas and locations.
Although these chairs by Lifeguard Master are designed in height and width for optimum comfort, it is very possible that a lifeguard will still get distracted or uncomfortable after a few hours on watch. For this reason, a small investment in lifeguard chair seat cushions and lifeguard chair back cushions are beneficial to the public and the lifeguard on duty.
Being a lifeguard is a difficult job. Many times people do not talk to others for a few hours at a time so when someone is secluded in their own thoughts, it can be easy to focus on an uncomfortable chair. When attention is taken away from the people in the swimming area, a lifeguard's duty is compromised and the area becomes dangerous. [A chair seat cushion or back cushion can help bring a lifeguard's attention back to the people. The undesirable alternative is the lifeguard's attention being focused on making himself or herself comfortable due to an uncomfortable chair.
Lifeguard Master has been in the emergency and life saving industry for many years. Sammy, the owner and founder of Lifeguard Master has been a lifeguard himself for 7 years. He knows the importance have having all the equipment readily available for a first responder, and through the years Lifeguard Master has become a robust lifeguard supply and lifeguard store company, accommodating the anticipating needs of first responders around the country and around the world. Lifeguard Masters determination to excellence and rescue safety has quickly made it a leader in its industry. For more information, please give us a call, send us an e-mail or visit our website. Also to stay updated with the latest news in emergency supplies, please visit our forum where rescue professionals from around the country and world stay connect, and post the latest emergency news at LifeguardsOnline.com.
Sammy
Lifeguard Master
(714) 605-3090
http://www.LifeguardMaster.com