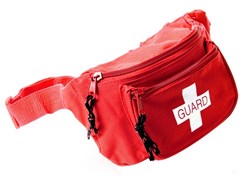 Miami, FL (PRWEB) December 24, 2013
When lifeguards are on duty, it can be helpful to have a first aid kit and other essential and lifesaving items on the lifeguard at all times. The popular lifeguard supply company, Lifeguard Master, has recently launched a new line of lifeguard fanny packs. This new line contains three different hip pack varieties that contain different pre-made stuffings.
The regular Lifeguard Fanny Pack can easily be placed on the hip and are made to withstand rigorous use for both lifeguards and emergency professionals. This fanny pack is made with tear resistant nylon and includes a heavy duty adjustable waist strap. The main compartment is eight inches long and five inches wide allowing for many different essential items to fit inside. The fanny pack also has an external compartment for easy organization of items. This fanny pack is a bright red with a white cross that has the lettering "GUARD" written on it. The bright color allows for the lifeguard or emergency professional to be easily seen at all times of the day. For more information, please visit: http://www.lifeguardmaster.com/lifeguard-fanny-packs.
Daniel in Florida says, "The product was of good quality and it shipped amazingly quickly. My girlfriend was very happy with the product. Excellent, excellent!"
The second bag that is new to the line is the Stuffed Fanny Pack. This is the same bag structure as the regular Lifeguard Fanny Pack, however, it comes stuffed with essential emergency supplies. These supplies are great for both lifeguards and emergency workers since they are packed with many useful items. The Stuffed Fanny Pack includes a CPR mask with O2 inlet with a case and gloves, antiseptic wipes, adhesive bandages, butterfly bandages, plastic bandages, gauze pads, sting relief pads, rolled gauze tape, triangular bandage with pins, instant ice pack, and vinyl gloves.
"Good quality, reasonable price, and fast shipping. It only took three days. I just got re-certified as a lifeguard and I needed a fanny pack," says Young from Illinois.
The last new style of hip packs offered at Lifeguard Master is the First Responder Fanny Pack. This lifeguard fanny pack is equipped with even more essential first responder items. Items available in this pack include the standard fanny pack, a CPR Mask with O2 inlet, a foil blanket, a black lifeguard whistle, a break-a-way lanyard, and vinyl gloves. To view a video on this, please click on: http://www.youtube.com/watch?v=NyOnj7KV_ss.
Reese from Voorhees, New Jersey says, "I placed an order and received it almost immediately. The quality of the items I ordered was outstanding and when I called with a question about my order, I was greeted with friendliness, courtesy, and was very much accommodated. I would be happy to order from this company again."
Lifeguard Master is constantly evaluating their items and make adjustments when new technology becomes available. This leaves customers with the highest quality and most modern emergency techniques available on the market for a fraction of the price. Lifeguard Master values the customer and the victims they serve which is why they take the time and effort to create lasting and high quality items for lifeguards and emergency professionals.
"Lifeguard Master is great. I am so impressed with the quality, pricing and mostly the speed with which I received my order. Thank you so much. I would recommend you to anyone. I am very happy," says Debbie from Hidden Hills, California.
Lifeguard Master strives to provide excellent customer service and makes the customer a top priority. Along with lifeguard fanny packs, Lifeguard Master also supplies a variety of other essential emergency responder items. These items include lifeguard apparel such as t-shirts, tank tops, shorts, swimsuits, hoodies, hats, caps, visors, pants, and more. Lifeguard Master offers even more emergency professional equipment that is popular amongst lifeguards and EMTs. These items include rescue sleds, rescue kayaks, CPR manikins, life vests and jackets, first aid kits, trauma bags, flippers, goggles, binoculars, diving bricks, sunscreen, rescue boards, lifeguard chairs, lifeguard umbrellas, CPR masks, whistles, spine boards, head immobilizers, rescue tubes, buoys, and of course fanny packs. For more information on the lifeguard fanny packs, please click on: http://www.lifeguardshirt.com/lifeguardfannypacks/.
"There are other lifeguard sites that sell stuff, none as in tuned to lifeguard needs as this site right here. The only one for me. I am a master trainer of lifeguards of 18 years for the Red Cross and I can say, I love this store," says Amaury in New York City, New York.
Lifeguard Master is truly a one-of-a-kind lifeguard supply company dedicated to the customers and the victims they help. For more information on these lifeguard fanny packs or other items available for purchase at Lifeguard Master, simply visit LifeguardMaster.com. To view the ebay listing on this item, please go to: http://www.ebay.com/itm/FANNY-PACK-RED-/130391583654.
Lifeguard Master has been in the emergency and lifeguard industry for many years. Sammy, the owner and founder of Lifeguard Master has been a lifeguard himself for 7 years. He knows what it takes to be an effective lifeguard and through the years has built a quality lifeguard store to accommodate for the anticipating needs of lifeguards around the country and around the world. Lifeguard Master's determination to excellence and water & rescue safety has quickly made it a leader in its industry. For more information, please give us a call, send us an e-mail or visit our website. Also to stay updated with the latest news in lifeguard and emergency supplies, please visit our lifeguard forum where lifeguards from around the country and world stay connect, and post the latest lifeguard news at LifeguardsOnline.com. Click here for the latest article on staying alet and scanning your swimming area: http://www.lifeguardmaster.com/lifeguardsonline/article.php?article_id=11&article_slug=staying-alert-lifeguarding-and-scanning-your-area.
Sammy
Lifeguard Master
(714) 605-3090
http://LifeguardMaster.com