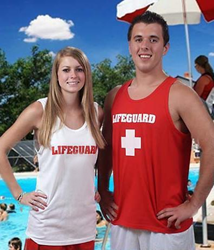 Amazing Lifeguard Tank Tops
Los Angeles, CA (PRWEB) April 14, 2015
Lifeguard Master has introduced their line of men's and women's lifeguard tank tops. The tanks are currently available on the company's website and are offered in both red and white, the universal colors worn by all rescue personnel worldwide. A company spokesperson announced the tank tops and said, "We pride ourselves on offering quality apparel for the lifeguard community and these new tank tops arrive just as the summer swimming season is about to ramp up. We invite lifeguard and other rescue personnel to visit our website and check out our new men's and women's tank tops."
One of the major priorities for a lifeguard is to be easily identifies as a rescue care giver. In an emergency, patrons in or around the water need to know who to go to in an emergency. These tank tops provide such a visibility by providing the word "LIFEGUARD" across the chest in the front and across the chest in the back.
For both male and female lifeguards, the company offers red and white tanks. The tank tops feature the word "LIFEGUARD" in all capital letters stretch along the top of the tank and underneath that, all tanks feature the cross that has come to symbolize rescue and safety. This combination is featured on both the front and back of the tank. The white lifeguard tank tops feature red lettering and the red lifeguard tank tops have white lettering and a white cross. Those who wear these tanks will be immediately recognized as someone who is there to help and to provide a sense of safety for swimmers, boaters or anyone else in the vicinity. To view a video of this tank, please click on: lifeguard tank top video
These red and white lifeguard tank tops are made of 100% pre-shrunk cotton and have been made to provide maximum comfort. The company is very aware of the need for flexibility and maneuverability and so each tank top fits a little bigger than an average size tank so that lifeguards can move around more freely without their movements being impeded. The men's tank tops are available in small, medium, large, x-large and 2x-large. The women's come in the same sizes, except the 2x-large.
The women have two choices. The first is the white women's lifeguard tank top. This tank is a fitted spaghetti strap. The second choice is the red women's lifeguard tank top. This also is a fitted spaghetti strap. The women's lifeguard tank top features spaghetti straps for comfort, flexibility and a feminine look. The tanks are also made to reduce tan lines and provide maximum cooling even on the hottest days.
Both men and women have to option of purchasing just one tank top or a set of five. The five set deal is perfect for private pool owners or communities that supply apparel to their lifeguards. Taking advantage of the five set deal allows customers to get a price break and can mix and match colors and sizes.
Lifeguard Master is a preferred seller of lifeguard apparel and equipment as well as swim team supplies. The men's and women's lifeguard tank tops are currently available on the Lifeguard Master website and are fully stocked. Delivery typically takes three to five business days.
Lifeguard Master has been in the emergency and life saving industry for many years. Sammy, the owner and founder of Lifeguard Master has been a lifeguard himself for 7 years. He knows the importance have having all the equipment readily available for a first responder, and through the years Lifeguard Master has become a robust lifeguard supply and lifeguard store company, accommodating the anticipating needs of first responders around the country and around the world. Lifeguard Masters determination to excellence and rescue safety has quickly made it a leader in its industry. For more information, please give us a call, send us an e-mail or visit our website. Also to stay updated with the latest news in emergency supplies, please visit our forum where rescue professionals from around the country and world stay connect, and post the latest emergency news at LifeguardsOnline.com
Sammy
Lifeguard Master
(714) 605-3090
http://LifeguardMaster.com