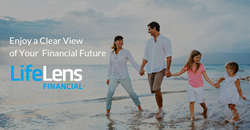 When you can perceive with clarity how your financial life will develop from this moment forward, you can begin making financial decisions that construct your future in the direction you desire. Paul Neff, CEO & Founder of LifeLens Financial
NEWPORT BEACH, Calif. (PRWEB) January 17, 2019
After 30 years of helping families and individuals make confident financial decisions, Lifetime Financial Planning rebrands and launches in January 2019 as LifeLens Financial. Subscribers can use the financial forecasting tool to make the best financial choices for every circumstance in their lives. The advanced financial forecasting performs powerfully complex and distinct calculations about a person's finances based on specified scenarios, so users will always know how certain decisions will impact their future.
With these calculations, LifeLens Financial provides users with a detailed understanding of the outlook of their finances, both present and future. It is capable of making financial predictions by factoring every aspect of a user's finances. With these predictions, the financial forecasting tool generates a summary with explanations, notifications and even recommendations for how the individual can make life less stressful. The clarity that LifeLens Financial provides reduces the stress of worrying about financial security. With decades of success, the financial forecasting tool has provided countless individuals with crystal-clear financial clarity and decision-making confidence.
"LifeLens is built on a simple idea: It's impossible to control what you can't see," says Paul Neff, CEO and Founder of LifeLens Financial. "When you can perceive with clarity how your financial life will develop from this moment forward, you can begin making financial decisions that construct your future in the direction you desire."
LifeLens Financial can be used by individuals of all age groups, helping the young and the old plan for the future and ensure their finances are secured. With the advanced forecasting tool, users can answer the pivotal questions in life, allowing them to have a clear-eyed understanding of how to manage their money. With a user-friendly interface and easy-to-learn functionality, LifeLens is the perfect financial tool for all stages of life.
LifeLens Financial was founded by Paul Neff, an entrepreneur specializing in multifamily financing, real estate banking and philanthropy. In fact, Lifetime Financial Planning was created as a means to determine how much he could afford to donate to charities and nonprofits. Eventually, these efforts turned into a powerful tool that would be used by countless individuals seeking clarity and assurance with their financial decisions.
Designed by world-class software engineers over three decades, the LifeLens Financial forecasting tool has been perfected year over year to best serve its users. Additionally, LifeLens' team of experienced and friendly modeling experts are also available to help illuminate your financial future. Sign up for a written assessment of your financial forecast or speak directly with an expert.
For inquiries, please call 833-537-4968. Watch the video to learn more.