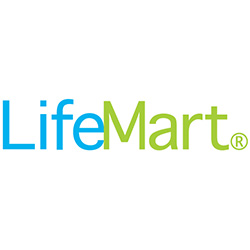 The offers and deals on LifeMart are becoming essential in order for people to stay safe physically and stable financially.
SHELTON, Conn. (PRWEB) August 20, 2020
As COVID-19 continues to transform the lives of Americans nationwide, LifeMart, the industry-leading discount platform of LifeCare, Inc., is experiencing historic demand from their millions of members wanting discounts on COVID-19-related products and services.
"The offers and deals on LifeMart have always been very popular with our members," says Peter Burki, Co-Founder & CEO of LifeCare, "now they are becoming essential in order for people to stay safe physically and stable financially."
The greatest demand increase has been with offers related to food and dining. With more and more people opting to eat at home, LifeMart has seen a dramatic year-over-year increase of more than 450% in visitors to its Food Delivery category. This includes food from local restaurants, as well as grocery-related items for those choosing to cook their own meals.
With homes becoming the new hubs for school and work activities, members adapted by turning to LifeMart for related solutions. Not only has LifeMart experienced a 300% demand increase for learning and tutoring services over the same time in 2019, they've also seen a 130% increase in purchases of computers and electronics used for work and education over the same time period.
Recognizing other key areas with increased COVID-19-related demand, LifeMart specially-aggregated many product and service categories to make it quick and easy for members to purchase what they needed for less. Starting with basics like masks and personal protective equipment, LifeMart also highlighted special deals and discounts across virtual camps, streaming services, lawn & garden items, camping equipment and more.
"We pride ourselves on providing the right solutions our members need when they need them," continues Burki, "with LifeMart, we're providing them a way to get the products and services they need while simultaneously saving them time, stress and money. As circumstances continue to evolve, you can be assured we'll evolve accordingly so our members always receive the most relevant, greatest discounts possible."
About LifeMart & LifeCare
LifeMart is an online discount shopping website that provides real savings on everyday products and needs. LifeMart is operated by LifeCare, a provider of employer-sponsored work-life benefits to 61,000 clients, including Fortune 500 companies and large branches of the federal government, representing 100 million members nationwide. LifeCare offers a full suite of solutions that save members time with personal life needs such as Backup Care Connection, Senior Care Management, Homework Connection, Mothers@Work, MilkShip, LeaveCoach, and BenConnect. LifeCare is headquartered in Shelton, CT, and can be followed on Linkedin.