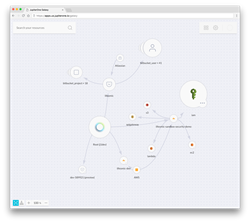 "JupiterOne has helped us streamline the HITRUST assessment and evidence gathering, reducing the time and resources we have to invest." - Ethan Bechtel, CEO of OhMD
INDIANAPOLIS (PRWEB) September 06, 2018
Today LifeOmic announces general availability of JupiterOne, the first cybersecurity solution that helps SaaS companies efficiently operationalize security and accelerates the time to achieve compliance and certifications.
LifeOmic developed the technology behind JupiterOne to protect LifeOmic's Precision Health Cloud platform, an extremely secure platform for developing and delivering precision health treatments. The Precision Health Cloud achieved the rigorous HITRUST CSF Certification in less than six months with zero corrective actions. Based on customer demand, LifeOmic productized our security technology as JupiterOne.
JupiterOne accelerates compliance and certification audits such as HITRUST, SOC2, PCI, ISO27001 and NIST by assisting companies in creating their security policies, processes and controls as well as easily producing evidence for controls.
JupiterOne also automates security instrumentation and orchestration. It is the platform that enables the Security and DevOps teams to "talk in the same language" and easily collaborate on improving security.
JupiterOne enables customers to easily provide assurance and compliance evidence by asking simple questions. It achieves this by integrating into a customer's existing digital infrastructure, cloud and DevOps environments, and security controls via APIs.
JupiterOne's Policy Builder enables the creation, management and publishing of proven security policies with a wizard-like process. These policies streamline compliance and certification audits as well as customer security reviews.
JupiterOne directly integrates with AWS, source code control systems like Bitbucket and security controls such as Okta. JupiterOne ingests data automatically from these source environments and builds a graph connecting all resources. This graph allows Security and DevOps teams at any organization to easily visualize, search and generate reports across their entire ecosystem. With JupiterOne, our customers can immediately spot potential misconfigurations and other security issues.
JupiterOne also contains an always up-to-date asset inventory of your digital and physical assets.
These features enable JupiterOne customers to provide evidence for security reviews and audits in minutes, saving the hours of time it can take to pull data and pore over logs from multiple systems.
LifeOmic has also partnered with leaders in penetration testing and security awareness training to manage these critical security tasks in JupiterOne.
Several early-access customers have already been experiencing the benefits of JupiterOne.
"At OhMD, software security is our top priority. JupiterOne helped us at a critical junction of our product and business," said Ethan Bechtel, CEO of OhMD. "With JupiterOne, we can easily see and proactively address security issues within our software as well as the underlying AWS environments. We can connect and automate security controls across our cloud and DevOps infrastructure. The JupiterOne solution gave us the confidence to develop and deploy highly secure software while continuously maintaining rigorous compliance requirements – without adding any additional operational resources."
Bryce Daines, Vice President of Product Development at PierianDx, says that JupiterOne is helping his organization attain security certifications. "Security is critical at PierianDx. To demonstrate our commitment to security, we are earning HITRUST CSF Certification. JupiterOne has helped us streamline the HITRUST assessment and evidence gathering, reducing the time and resources we have to invest. JupiterOne is a true partner that will help us stay in compliance and efficiently operationalize security for the long run," Daines said.
Early JupiterOne customers have driven a strong return on investment by reducing the internal and consulting resources needed for security audits, have increased sales velocity for opportunities that require security reviews and have increased the efficiency of their security team members.
For more information on JupiterOne or to request a free trial, please visit https://jupiterone.io.
About LifeOmic and JupiterOne
LifeOmic is the software company that leverages the cloud, machine learning and mobile devices to offer disruptive solutions to healthcare providers, researchers, health IT companies and to patients themselves. We make it possible to securely aggregate clinical, genomic, imaging and lifestyle data for millions of patients and we help our customers use this data to make discoveries and guide precision health.
We developed JupiterOne to address the requirements of all SaaS companies: to deliver secure software as infrastructure and code continues to grow and evolve. JupiterOne is the first security solution for accelerating compliance and certifications as well as enabling companies to better operationalize, orchestrate and automate security.
For more information visit https://jupiterone.io, email hello(at)jupiterone.io or call 855-543-3664.