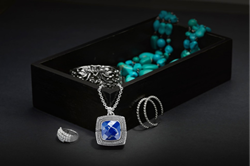 UNION, N.J. (PRWEB) December 22, 2020
LifeStation, a leading provider of medical alert monitoring systems and connected health solutions for aging seniors and caregivers, has announced the launch of LifeStation Luxury. For fashion-forward senior women who maintain an active lifestyle, being seen in public with an emergency response device hanging on their neck is sometimes a showstopper. This creates a serious dilemma for caregivers who want to protect their loved ones. LifeStation Luxury solves this problem with an attractive, discreet emergency response device housed inside a stylish necklace.
"The medical alert industry has long needed a solution that legitimately addresses lifestyle needs", said Laura Aiello, Director of Strategic Partnerships at LifeStation. "With LifeStation Luxury, we're now saying you can have your cake and eat it too. Our customers can wear a beautiful costume jewelry necklace while getting all of the safety and peace of mind they need."
The pendant comes pre-paired with LifeStation's Mobile LTE which connects to a 24/7 emergency monitoring center and is equipped to run nationally on either the AT&T or Verizon networks. Mobile LTE is small and lightweight enough to be easily carried in a purse or on a belt. The jewelry pendant is the only wearable in the medical alert industry to pair wirelessly via Bluetooth.
In addition to pairing with the LifeStation Luxury product line, Mobile LTE's Bluetooth capability paves the way for integration with the growing ecosystem of remote patient monitoring tools coming to market.
"We built LifeStation's mobile platform from the ground up to be an accessible Bluetooth powered system", said Ms. Aiello. "We wanted to make it easy for leading technology providers to integrate with us. Our vision is for the device to behave as a remote care hub for best of breed telehealth tools, including our growing line of wearables and an increasing number of remote patient monitoring devices. All of these work together to make our platform the leader in both emergency monitoring and a comprehensive view of customer care."
In building the Luxury line, LifeStation partnered with Trelawear, the first provider to offer an attractive, discreet emergency response device housed inside a sophisticated and fashionable pendant.
A commitment to combine modern technology with customer needs is seen as a game changer.
"We believe the market is ready to adopt this change and are incredibly excited to partner with LifeStation", said Mara Permutter, founder and CEO of Trelawear. "We built this company because there should be no stigma attached to safety, and seniors deserve a "Safety with Style" solution.
Continued Ms. Aiello, "The Trelawear team has incredible experience creating high-end jewelry and when we saw their operation and supply partners, we knew we wanted to work with them. They're a first mover and have an amazing product that matches our business objectives."
LifeStation Luxury is available for purchase by calling 800.446.3300.
About LifeStation
LifeStation is one of the leading providers of medical alert monitoring and telehealth technology services in the United States. LifeStation's mission is to leverage innovative technology and services to transform the lives of seniors and help them live safely and independently. Of equal importance is the wellbeing of caregivers and providing them with the peace of mind they need. Learn more about LifeStation by calling 800-446-3300, or visiting http://www.lifestation.com.
About TRELAWEAR
Founded in 2016 by seasoned fashion, jewelry and watch executives, Trelawear offers the first attractive discreet emergency response devices, providing safety with style. We've partnered with the best in the industry to provide leading Bluetooth and RFID technology, reliable real-time monitoring services, and reliable real-time monitoring services, and exceptional jewelry design to create a solution for women of all ages wanting to look good while feeling safe and secure. For more information visit us at http://www.trelawear.com.